Patient Story: from Alaska for Care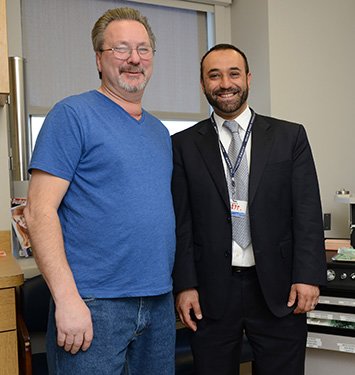 Month after month, as Lonnie Lamoreaux carried on with life in Anchorage, Alaska, it became more difficult to hold conversations without wheezing or coughing. His voice sounded more gravelly. It was getting harder and harder for the 56-year-old professional truck driver to breathe. After seeing a doctor in his hometown, he learned a goiter was enveloping his trachea – and that there was nothing doctors there could do for him.
With a very delicate surgery needed, Dr. Mahdu Prasad, M.D., Lamoreaux's oncologist in Anchorage and a former Henry Ford doctor, recommended Lamoreaux travel all the way to Detroit to see Dr. Tamer Ghanem, M.D., a head and neck cancer surgeon at Henry Ford Hospital in Detroit.
With the doctor's recommendation and his own research under his belt, Lamoreaux set off on a nearly 4,000-mile journey to a city he'd never visited but insisted on coming to for care.
"I did my research and I wanted only the best," Lamoreaux said about a week after his April 14 surgery by Dr. Ghanem. "After going through my girlfriend's successful liver transplant, I learned you only want to go the best hospital, and you only want the best doctors."
Lamoreaux arrived in Detroit on April 6, saw Dr. Ghanem three days later, had surgery on the 14th, stitches out on the 16th and his post-op visit on the 24th, a day before he boarded a plane back to Alaska.
"I was in a hurry. I wasn't messing around. I wanted it out and I wanted to wake up. That's why I came here," says Lamoreaux.
Lamoreaux, who's getting close to returning to work and happy to be back home speaking and breathing without a struggle, says words can't adequately express his gratitude to Drs. Ghanem and Prasad.
"I already feel so much better. When I woke up from the surgery I was asked what was my pain on a scale of 1-10, it was a maybe a 1. This has been a great experience. Every appointment that was made I was seen on time. Every question I had was answered. I couldn't be happier about my decision to come to Detroit," he says.
Dr. Ghanem says he is honored to be sought out for care.
"There are other people who could have done this," Dr. Ghanem says. "I even offered to find him someone closer to home, but he wanted to come here. I really am honored."
It's satisfying, he says, that the expertise, experience and Henry Ford Hospital's history of success with head and neck cancer patients are combining to make it a referral center for patients and doctors from all over.
"We have patients come from other states and Canada, but this is the first I have had from Alaska, and probably the farthest a patient has come," Dr. Ghanem says. "We're a destination place for complex head and neck cancer care. We have a lot of expertise not available in other places."