Finding Unexpected Relief Through Acupuncture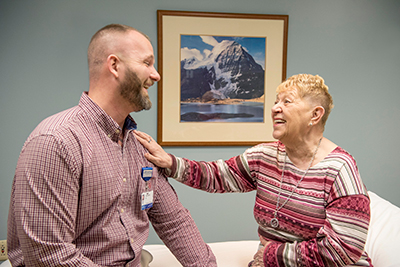 Nancy Adkins never believed acupuncture could help her find relief from the hot flashes that were so uncomfortable and, worse, the hand tremors that made a balancing act out of eating and left her feeling embarrassed and frustrated when dining out with friends.
"I thought putting needles in your body was crazy," she says. "It wasn't something I ever would have considered, but whenever I would talk to my daughter she would tell me how much her acupuncturist helped her pain. She said I should see for myself."
As time passed and her discomfort remained, Adkins decided the idea of needles didn't seem so far-fetched. If her daughter vouched for it, she was willing to try it.
"I looked into it, made an appointment and hoped for the best," she recalls.
Within three weeks of her first appointment with Mathew Kulas, a board-certified acupuncturist at the Henry Ford Center for Integrative Medicine, the hot flashes, a side effect of the cancer medication she takes, were less frequent.
Mostly, she says, she just felt better overall.
"I was surprised. I could really tell the difference. It was like night and day," she says. "I felt so much better immediately afterward and things continued to improve with each session."
Initially she sought relief for the hot flashes only, but with each appointment Nancy felt comfortable discussing other health concerns and discomforts with Mathew. She mentioned the essential tremors that were affecting her fine motor skills and making things like writing and holding a fork difficult.
"Mathew said right away, 'we can help you with that too,'" she says. "Sometimes I question why this is happening to me, why is my body doing this? Why is my food falling off my fork when my friends are just fine? I wish it weren't this way, but I do feel grateful to know Mathew, and I know if not for my symptoms, I never would have met him. I truly believe coming here has been one of the best things for me."
After several months of treatment, she says she's not only making regular appointments, but eager for the next one to come around.
"I really look forward to every treatment," she says. "The sessions are so relaxing. It's a nice way to take a break from everything. And to be able to manage my symptoms, it's made life so much better."
During an acupuncture session, patients lie on a table in a private treatment room, with calming music and lighting. Tiny, fiber-like, needles are placed on different parts of the body. The location of the needles depend on the individual's health concerns. For Nancy, needles go in the tops of her ears, the middle of her forehead, in her hands, along her legs and in her feet. Patients rarely feel any pain during treatment, many even fall asleep.
Patients turn to acupuncture for a wide range of reasons, including to quit smoking, to treat stress, headaches, gastrointestinal issues, infertility and more. For Nancy, it comes down to just feeling better.
"I know some people think it sounds strange," she says. "I did, but I am absolutely blown away by how much it's helping me. Who would have thought? How does a needle in your forehead or your foot take your pain away?"
The answer is a pointed one: acupuncture.
"I'm so happy I tried it," she says. "I'm a believer."