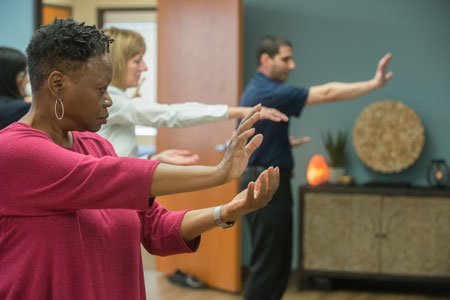 Tai chi is an ancient Chinese non-combative, martial art that embraces the body, mind and spirit. It provides one of the most effective exercises for health of mind and body. Often referred to as "moving meditation," tai chi involves a series of slow, meditative body movements that are designed to promote inner peace, improve muscular strength and flexibility, relieve pain, improve circulation, increase bone density and address a number of chronic health conditions.
Benefits of tai chi
Tai chi can help to reduce stress and anxiety, creating a calm feeling of peaceful inner strength. It can help men and women of all ages and fitness levels. It has been shown to help manage a wide range of health conditions, including:
Balance disorders, such as Parkinson's disease
High blood pressure, through improved circulation and stress reduction
Depression and anxiety
Chronic pain
Side effects of cancer treatment
What to expect when practicing tai chi
The instructor will guide you through slow, mindful movements. As you move, you breathe deeply and naturally, focusing your attention on your bodily sensations. The movements can be adapted or practiced while walking, standing, or sitting.
Our tai chi instructor will work with you to create a personalized tai chi experience that will help you to meet your health goals. Before practicing tai chi, consult your physician to ensure that it is right for you.
Tai chi locations
Tai chi classes are offered at the Henry Ford Center for Integrative Medicine in Dearborn. All classes are $12 each. Package discounts available.
To register for a class, download the MINDBODY wellness app and search for "Henry Ford Integrative Medicine" in Dearborn. Walk-ins welcome!
Questions? Call (833) 246-4347 for more information.
Learn More and Live Better
Read the latest items in our blog.