Matt Lehman: Double Hip Replacement
"I am much more active, and I've lost 10 pounds. I sleep better, and my mood has improved."
When Concord Schools athletic director and teacher Matt Lehman decided to have hip replacement surgery in 2017, he expected to decrease the level of pain he had been experiencing. But he was surprised to find that surgery and the physical therapy that followed also restored much of the energy and stamina of his younger athletic days.
"The noticeable limp I used to have is now gone, I take almost nothing for pain, and my Apple Watch is clocking about 100 minutes of physical activity most days," Matt said. "I feel fantastic."
About a year earlier, Matt began experiencing back pain while playing and coaching basketball. "It came on kind of gradually and just got worse," he said. Matt consulted with Henry Ford Allegiance Health orthopedic surgeon Timothy Ekpo, DO. That was when he found out his pain was actually generating from his hip, not his back. Dr. Ekpo diagnosed avascular necrosis, a condition caused by an impaired blood supply to the head of the thighbone (femur), which can lead to destruction of the hip joint and severe arthritis. Matt agreed to have joint replacement surgery on the right side, where the deterioration was more advanced.
The results of that surgery were so positive that Matt decided to have his left hip replaced in November of 2018. "I knew the need for a second surgery wasn't immediate, but I had so much faith in Dr. Ekpo's ability and was so pleased with the improvement on my right side, I didn't see any reason to wait." Matt said.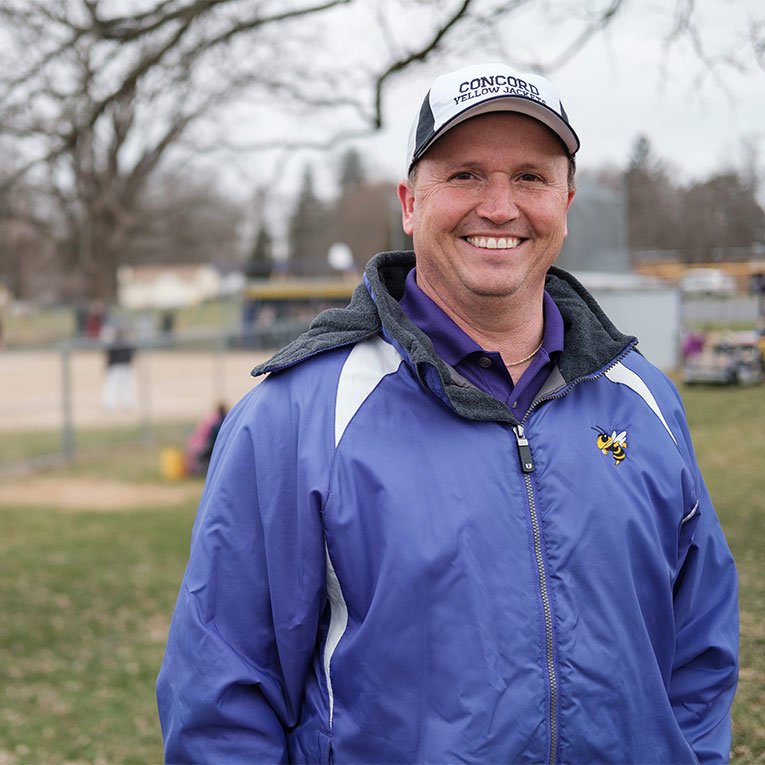 After the second surgery, Matt completed physical therapy at Henry Ford Allegiance Health. "I can't overemphasize the importance of rehab following total joint replacement," he said. "It made all the difference in my recovery."
With Matt's recovery came a surge of energy he hadn't experienced in years. "I'd always been pretty active. I like basketball and am an avid golfer, but I admit I had gotten a bit lazy over the past few years. That increased my back pain, which made me even less motivated to exercise. But now I'm on a much healthier track," he said.
Matt bought a stationary recumbent bike and rides it daily for at least 30 minutes. He supplements that with walking on the treadmill and riding a traditional bike, in addition to walking the field in his athletic director role. "My job requires high-octane energy, and I find I have it now. It seems the more I do, the more I feel like doing," Matt said. "I am much more active, and I've lost 10 pounds. I sleep better, and my mood has improved."
Matt is grateful to Dr. Ekpo for his positive outcome. "But, even with the most skilled surgeon, you have to take the responsibility to increase your activity, if you want the best results from joint replacement surgery," he said. "Don't skip physical therapy, and be sure to follow up with regular exercise."