Halloween Health and Safety Tips
Halloween is a favorite holiday for kids, and with all the candy and costumes it's easy to see why. To be sure kids have a happy Halloween we've pulled together safety tips from The American Academy of Pediatrics, Safe Kids Worldwide and the Food and Drug Administration.To be sure kids have a happy Halloween we've pulled together safety tips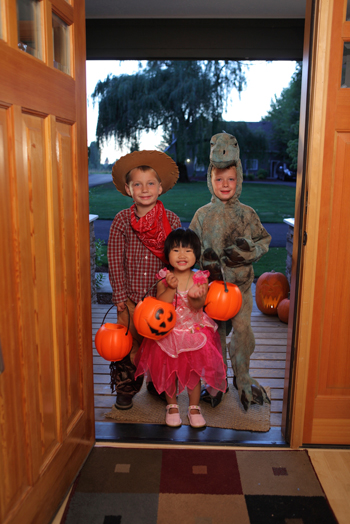 Costume safety
Plan costumes that are bright colored, also consider adding reflective tape to Trick-or-Treat bags.
Masks can make it difficult to see, instead consider using non-toxic make-up.
If a sword, stick or cane is part of a costume be sure that it is not too long and does not have a sharp edge.
Staying safe along the trick-or-treat trail
Both kids and the adults with them should have flashlights with new batteries.
Kids should only go to homes with a porch light on, and should never go inside a home or car to get a treat.
Always stay in groups and only cross the street at designated crosswalks.
Be sure to teach kids how to call 9-1-1 if they have an emergency or get lost. At least one person in each group should have a cell phone with them.
Be sure and check the treats
Kids should not accept or eat anything that is not commercially wrapped.
To be sure that candy has not been tampered with, kids should wait to eat anything until they are home and an adult has sorted through their treats.
To help make sure you kids can resists snacking while trick-or-treating, give them dinner or a big snack before they head out.
Looking for more Halloween safety tips?
Visit these resources for additional information how to keep your kids safe on Halloween.