Specialty Medications and Free Home Delivery
Welcome to Pharmacy Advantage Specialty Pharmacy.
A Trusted Partner Throughout Your Treatment Journey
Pharmacy Advantage is a Michigan-based specialty pharmacy serving patients across the country with experience in managing complex medication therapies for acute and chronic conditions. We provide a complete range of support services to patients with specialty conditions and the convenience of Free Home Delivery for all your medications.
Experienced pharmacists will assist you in understanding how and when to take your medication properly, preventative measures to limit side effects, reminders for medication adherence, educational resources to better understand your condition, and more.
We are devoted to customer safety, wellness, and satisfaction while delivering the highest level of compassionate, personalized attention and care. Our quality programs are designed to work with you, your family, doctor, and insurance to support you in reaching your treatment goals.
Whether you're new to specialty medications or have received them in the past, our experienced pharmacy team is ready to support you.
We supply a complete range of specialty pharmacy and therapy management services for health conditions, including:
Asthma

Atopic Dermatitis

Cancer

Crohn's Disease
Cystic Fibrosis
Diabetes
Enzyme Replacement Therapy
Infertility
Growth Hormone Deficiency
Hemophilia
Hepatitis B/Hepatitis C
Hereditary Angioedema
High Cholesterol
HIV/AID
Immune Disorders/IVIG
Juvenile Idiopathic Arthritis
Multiple sclerosis
Plaque Psoriasis
Psoriatic Arthritis
Pulmonary Arterial Hypertension
Rheumatoid Arthritis
Respiratory Syncytial Virus (RSV)
Transplant
Ulcerative colitis
Pharmacy Advantage provides comprehensive services designed to fit patients' needs, including:
Support for completing prior authorizations from physicians' office and insurance carrier
Co-pay and financial assistance programs to help patients access medications
Ongoing counseling, education and clinical support
Follow-up calls to proactively manage side effects and verify delivery
Nursing and social support to help with lifestyle changes in collaboration with physician teams
Special packaging to ensure product safety and privacy
Free prescription delivery to home or office
Refill reminder service 24/7 access to highly trained pharmacists to answer all of your questions
Acceptance of most insurance plans
User-friendly website and mobile app to help manage medications
Bilingual/Interpreter support available upon request
What is a specialty pharmacy?
Specialty pharmacies differ from traditional or retail pharmacies in coordinating many aspects of patient care and disease management. Specialty pharmacies will stock many of the drugs that are not usually found in your community or retail pharmacies. They are designed to efficiently deliver medications with special handling, storage, and distribution requirements with standardized processes. Specialty medications have a higher cost, higher complexity, and/or higher touch compared to traditional medications. Specialty pharmacies are also designed to improve clinical and economic outcomes for patients with complex, often chronic and rare conditions, with close contact and management by clinicians. Health care professionals employed by specialty pharmacies provide patient education, help ensure appropriate medication use, promote adherence, and attempt to avoid unnecessary costs. Additional support provided includes coordination and sharing of information among clinicians treating patients and helping patients locate resources to provide financial assistance with out-of-pocket expenditures.
Pharmacy Advantage: Free home delivery
Henry Ford's Pharmacy Advantage realizes that when it comes to filling prescriptions, convenience is extremely important. To better serve patients, we offer a mail order program with FREE shipping to their home or office.
Pharmacy Advantage is one of the most trusted and well-respected mail order pharmacies in the industry. By filling medications through this service, patients receive personalized care from a professional staff focused on protecting safety, health and satisfaction. Our team prides itself on providing disease specific therapy management tailored to each individual and their unique medication needs. Treating the person, not just the patient, we understand that sometimes the best medicine comes with a healthy dose of compassion.
Our Pharmacy Advantage office is open Monday - Friday from 8:00 a.m. to 6:00 p.m.
Closed Saturday, Sunday, & National Holidays.
For more information visit: www.PharmacyAdvantageRx.com or call 1-800-456-2112 to speak with a representative.
---
The Pharmacy Advantage app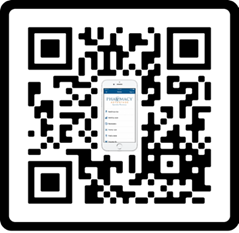 Free, Convenient, Confidential Home Delivery. Manage your prescription information anytime, anywhere in one easy-to-use free Mobile App.
Refill most of your prescriptions from your medication list or scan your prescription label
Our pharmacy team will contact you to process specific specialty medication refills
Set reminders to take your medication on time
Manage prescriptions for your entire family
Instructions to download mobile app
Open camera app on phone
Position camera over QR square code, touch OPEN
A blue screen will appear
Touch App Store for iPhones or Google Play for Androids
Touch Get, then tap INSTALL