Checking Your Blood Pressure at Home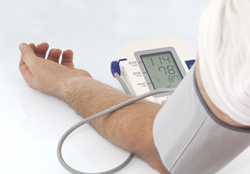 Checking your blood pressure at home is important if your doctor recommends it.
When to take your blood pressure
Ask your doctor for the best time of day to check your blood pressure. It may be more than once per day.
Make sure you take your medications 2 hours before checking.
Blood pressure can temporarily rise from stress, smoking, cold temperatures, exercise, caffeine and certain medications. Try waiting 30 minutes after one of these factors before taking your blood pressure.
How to take your blood pressure
Use the restroom to empty your bladder.
Find a comfortable spot to sit down next to a table.
Sit up straight, with back supported, legs uncrossed and feet flat on the ground.
Roll up your sleeve on the arm that will be used to take your blood pressure. Keep your arm rested on the table at heart level. Refer to photo.
Rest for 5 minutes in the chair before you take your blood pressure.
Place the cuff around your rested arm, just above the elbow.
Breathe normally and try not to talk while checking.
Follow the directions given with the blood pressure monitor you have.
Record your readings in a log. Also, record any relevant information such as exercise, a big meal or a stressful event close to the time of the reading.
Always take your log to the doctor when you go. Take your blood pressure monitor to the doctor once a year to check the machine. This is done by comparing a blood pressure reading from your machine with your doctor's office machine.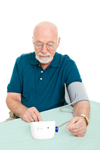 ** If the machine gives an error reading, wait 5 minutes before trying again. **