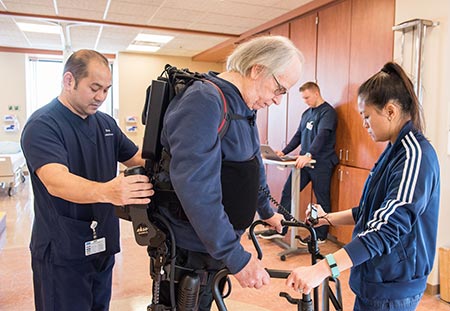 Jerome Busam is back on his feet with the help of a robotic exoskeleton
Jerome Busam of St. Clair Shores came to Henry Ford Macomb as a rehabilitation patient, after suffering a stroke in December 2017.
Jerome, 80, was one of the first patients to use a new wearable robotic exoskeleton as part of his rehabilitation at the hospital. The Ekso GT, manufactured by Ekso Bionics, is state-of-the-art equipment designed to speed up the recovery process and offer better outcomes by getting patients back on their feet sooner.
The device assists patients who have weakness, balance and coordination deficits with walking. It fills in the gap between where the patient is currently functioning and what is needed by facilitating the re-learning of correct step patterns and weight shifting.
It also significantly reduces the physical demand usually placed on the therapist when working with this population of patients, making it much safer for the patient and therapist.
"The Ekso fine-tuned and strengthened Jerome's right leg," said physical therapist Ron Angeles. "Before, his knees would buckle. Now he's standing taller, with more confidence and control."
Ron explained that using the Ekso helps to stretch and strengthen muscles. It pushes patients to go further distances, building up to 200-300+ steps and standing for at least half an hour. Most importantly, it helps re-teach the brain how to walk correctly.
"Having a stroke is like your brain's computer has crashed. You forget how to do simple things. The Ekso GT technology is equivalent to re-writing the program in your brain that tells your body how to walk," said Angeles.
The ability for the brain to re-organize and re-learn after damage is the basis for this technology. By guiding the body into the proper movement patterns, it guides the brain to build the correct blueprints. The patients can then use these blueprints to walk with less difficulty, less assistance and a more fluid gait pattern after training with the exoskeleton.
Henry Ford Macomb is one of only a few places in Michigan to offer the Ekso GT. The value of the equipment and four years of service, a gift to the hospital from a private donor, is $200,000.
Jerome was discharged in mid-January. He can now walk on his own, using a walker for balance. In fact, his wife Nona thinks he is walking even better than before he had the stroke.