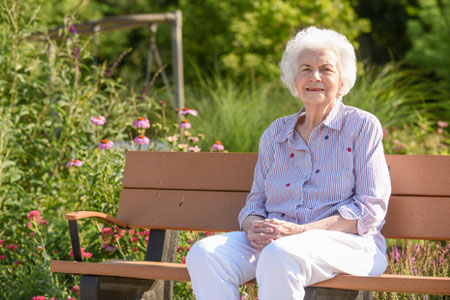 Marilyn Reckling, 85, of Rochester Hills, Michigan, was scheduled for knee replacement in January 2020. But when she visited her cardiologist for clearance prior to surgery, Sindhu Koshy, M.D., discovered Marilyn had critical aortic valve stenosis--a narrowing of the opening of the aortic valve that restricts blood flow from the left ventricle to the aorta. The knee surgery was put on hold so her heart issues could be addressed.
Marilyn, a mother, grandmother and great-grandmother, was referred for evaluation with Samer Kazziha, M.D., an interventional cardiologist and Henry Ford Macomb Hospital's Chief of Cardiovascular Services. A cardiac catherization revealed significant coronary artery blockages in addition to the severe aortic valve stenosis.
Based on her age and 40-year history of high blood pressure, Marilyn was considered high risk for open-heart surgery. Henry Ford Macomb's Structural Heart team evaluated her case and formed a multi-faceted plan of care that incorporating the hospital's leading-edge, minimally invasive treatment options.
Pandemic put treatment on hold
To buy Marilyn some time at the start of the COVID-19 pandemic, Dr. Kazziha performed aortic valvuloplasty, which opened the valve area with a balloon and helped to temporarily improve her symptoms.
COVID-19 forced all but the most urgent surgeries to be postponed at Henry Ford Macomb and most other hospitals in the area. As soon as surgical services were approved to resume, Marilyn's surgeries were rescheduled.
Robotic heart surgery with TAVR, angioplasty may be first in country
First, Raed Alnajjar, M.D., Director of Cardiothoracic Surgery Services, performed robotic bypass surgery, with a single bypass to the left anterior descending artery (LAD). Robotic heart surgery is done through very small cuts in the chest, using tiny instruments and robot-controlled tools.
"Henry Ford Macomb Hospital is one of only a few hospitals in the country – and the only one in southeast Michigan -- to offer robotic heart bypass surgery, which has the benefits of smaller incisions, minimal pain and a much shorter recovery time," said Dr. Alnajjar.
The next day, Dr. Kazziha performed angioplasty and stenting of the left main and circumflex -- a procedure used to widen coronary arteries that are blocked or narrowed.
"All of these preceding steps were done so we could eventually do TAVR in the safest manner possible and not put Marilyn through open-heart surgery," said Dr. Kazziha.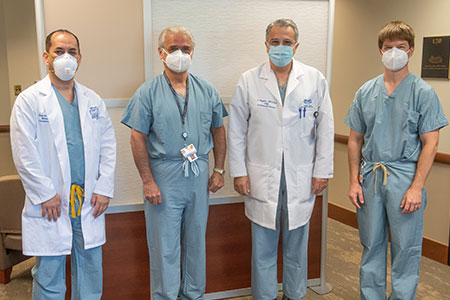 "It was scary for me," said Marilyn. "I was nervous about going to the hospital because of COVID and patients weren't allowed to have any visitors at the time. Luckily, my family was able to stay in touch by phone to provide support."
Finally, just three weeks later, a Transcatheter Aortic Valve Replacement (TAVR) was completed under the leadership of William O'Neill, M.D., Medical Director of the Henry Ford Center for Structural Heart Disease, assisted by Drs. Alnajjar, Kazziha and Brian O'Neill, M.D.
The procedure was finished in less than one and a half hours with an excellent outcome.
"We believe it's the first time in the country that a cardiac robotic bypass has been combined with TAVR and angioplasty/stenting," said Dr. William O'Neill.
An excellent outcome
Marilyn and her family are grateful for the care she received at Henry Ford Macomb.
"We saw an improvement right away," said Marilyn's daughter, Jacqueline Pettitt. "Since the surgery, we notice a difference in her breathing and her color. She doesn't walk as slowly. She even speaks with less effort. My mom has done remarkably well."
Nowadays, Marilyn is catching up by phone with long-time friends and she's even attended a drive-by baby shower for her third great-grandchild, who is expected in October. She's busy working on a special Christmas stocking for the new baby – a keepsake she makes for everyone in her family. Marilyn and her husband, Bud, will celebrate their 64th wedding anniversary September 15.
"I'm so happy to be home. I can't beat the care I've gotten from my family, especially my husband and my daughter Jackie, who checks on us and brings us lunch every day," said Marilyn.
She's completed both physical and occupational therapy at her home and plans to start her cardiac rehab program soon.
"It took extensive collaboration by multiple specialist to help this high-risk patient achieve a superb clinical outcome," said Dr. Kazziha. "We're happy to be able to offer our patients this high level of expertise at Henry Ford Macomb."