New school care for an old school soul
Ronald Napoli was used to this.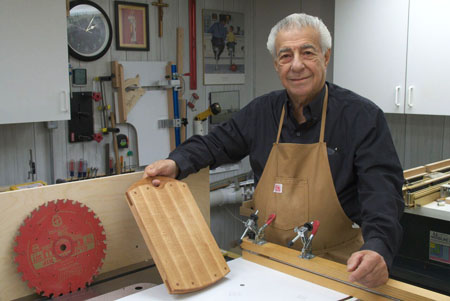 Having dealt with aneurysms for over 20 years, he had grown accustomed to the same routine observations that always included the same conversation with his doctor, was always followed by the same reminder to schedule his next appointment and left him with the same blend of fear and acceptance. A family history of aneurysms only furthered Ronald's belief that this hereditary habit was just a part of his life and that living with uncertainty certainly wasn't uncommon.
What Ronald was not used to was the idea that this could all change - and for the better.
Step In The Right Direction
Several years ago, during a routine observation, Ronald's doctor spotted an aneurysm in his abdominal aorta near his renal arteries– the direct supply line for oxygen-rich blood to the kidneys. Although the location was troubling, his doctor reassured him that it was not an immediate issue. Yet, with each passing year, concern began to overtake complacency.
In 2016, Ronald's yearly appointment was accompanied with reluctant acceptance that surgery was now inevitable. Otherwise, he was at constant risk of rupture - a top ten leading cause of death in men. The juxtarenal aneurysm required a procedure that his doctor was not capable of performing, and Ronald, at 75 years old, was forced to find an alternative.
Through his HAP insurance, Ronald was referred to Timothy Nypaver, M.D., a Henry Ford Vascular Surgeon. Ideally, Dr. Nypaver would address the aneurysm through an open aneurysm repair but this approach was challenging due to the risk associated with Ronald's kidney function.
"I have stage 3 kidney disease," says Ronald. "So, if they were to cut me open and do it the old way, I would have definitely lost my kidneys and wound up on dialysis."
Instead, Dr. Nypaver performed a procedure that only a handful of health systems were capable of performing: a fenestrated endovascular aneurysm repair (FEVAR).
"Because of his kidney function and the location of the aneurysm, he was deemed someone who couldn't have his aneurysm fixed, until he was sent here," says Dr. Nypaver. "We were willing and completely capable of undertaking the repair."
However, in order to do so, a custom-fitted graft was required to treat the aneurysm and maintain blood flow to the kidneys throughout the procedure, given Ronald's history of renal insufficiency.
"We were one of the first places in Michigan to get approval for the device required for this procedure," said Dr. Nypaver.
Featuring pre-cut holes for the kidneys, kidney arteries and mesenteric vessels, this specialized device allows the blood flow to the kidneys to be maintained throughout and after the repair – something that, for a man in Ronald's condition, would not be possible without this procedure. The entire operation is performed through small punctures in the groin and requires significant endovascular expertise.
"Basically, we are building a complex device a piece at a time and constructing a repair of the aneurysm from within the patient's aorta," says Dr. Nypaver.
"The procedure went very well," recalls Dr. Nypaver. "In follow-up, we are seeing that his kidneys have responded well and the aneurysm continues to shrink, which is exactly what we wanted."
Under New Management
After six hours of surgery and four days spent in intensive care, Ronald was discharged, but it felt different that time. Walking out of Henry Ford Hospital, Ronald felt confident and comfortable that the Henry Ford Health now cared for his aneurysm and health.
"It's a real blessing that I went to Henry Ford and it was a real blessing that Dr. Nypaver was my surgeon," says Ronald. "I call him my hero."
For other aneurysm patients who desire to improve their outlook and care, Ronald has only one suggestion:
"Go see Dr. Nypaver," says Ronald. "From him to his entire office, everyone was fantastic and I was treated so wonderfully."