Couple Finds New Life Together After Bariatric Surgery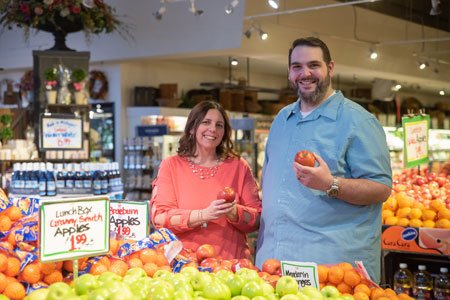 Jess Perreca started 2017 weighing 500+ pounds. Ulcers on both of his legs, a side effect of his weight, caused excruciating pain. He was treated in the Emergency Department at Henry Ford Macomb Hospital. His attending physician, Dr. Anthony Affatato, recommended the hospital's bariatric surgery program.
"That was my rock bottom and my sign that I couldn't continue like this," said Jess. "I knew that my health was declining. Without bariatric surgery, I would be physically disabled or not be here right now."
Jess had previously rejected the idea of surgery, but this time he took the doctor's advice. His wife, Amy, came with him to an informational seminar for support. After learning more about the program, they both decided to have the surgery. "I had thought about bariatric surgery before but didn't have the confidence that I could do it," said Amy. "We'd both tried to lose weight without any lasting results. We did this for ourselves and for our two girls."
Their surgeries were scheduled for back-to-back months, with Amy going first. "It was a true team effort, right from the beginning," said Jess. "We built a new appreciation for each other. It's amazing how you can be in love with someone but fall in love with them again…sharing the experience and feeling like you're getting your lives back."
Obesity runs in both Jess and Amy's families. "I've been big since I was 6 years old. I let sports mask everything. I was a good athlete, but still got teased," said Jess. "I don't want my kids to miss out on any opportunities that I missed because of weight issues."
The Perrecas give high marks to the bariatric surgery program at Henry Ford Macomb Hospital and the care they received from Dr. Arthur Carlin and team. "The program is very structured, very educational-focused before, during and after," said Amy. "Sally Green (bariatric nurse manager) took us under her wing to be sure everything ran smoothly. We appreciated all of the care and follow up."
Most people who undergo bariatric surgery can expect to lose about 70 percent of excess body weight, with the first 18 months showing the highest benefit after surgery. One year after the surgery, Jess has lost 234 pounds and Amy has lost 80 pounds.
"I get so many compliments," said Amy. "When I see memory photos on Facebook, I can't believe the difference."
Daughters Shelby, 8, and Alivia, 5, have watched mom and dad make lifestyle changes and noticed their weight loss. The hard work has paid off for the whole family. "Before, we spent a lot of time sitting around, watching TV and looking at our phones. Now, as a family, we go do things together and it's the best thing ever," said Amy. "Last year, we raced home on the last day of school. I've never done that before! I can sit on a swing at the park and swing with the girls. At the Fraser Summer Festival that we go to every year, there's a giant slide that the kids like to go on. Before surgery, I couldn't have climbed all the steps or fit on the slide. This year, I did it and it was the best feeling!"
"Just being able to get around is easier. We went to Cleveland for a vacation, walked around the city and went to a Tiger game--where I was able to fit in the seats," said Jess. "I've done things in the last six months that I haven't done since I was a teenager—riding a bicycle, going tubing. I feel like I'm really living, not just breathing."
Most important are the health benefits derived from the weight loss. "My sleep apnea has improved to mild or non-existent. I should be able to stop taking blood pressure medicine shortly. My ulcers have cleared up. Surgery has added years to my life," said Jess.
Bariatric surgery has changed the Perrecas' perspectives on life. "Bariatric surgery is a tool," said Jess, who turned 40 in January. "I have more of an appreciation for food now. It's a fuel. I still love and enjoy it, but for a very different reason. It's to keep me going; not fill a void."