Macomb Township man hit a home run for a healthy lifestyle
When 48-year-old Dave Schachinger felt "out of whack" up north during hunting season, he knew it was time to start taking better care of himself. He left deer camp early and came home to see his doctor.
"I've been on blood pressure medication since I was 28. Hypertension runs in my family," said Dave. "I was also pre-diabetic. My doctor advised tripling my blood pressure medicine and starting diabetes medication if I didn't make some changes."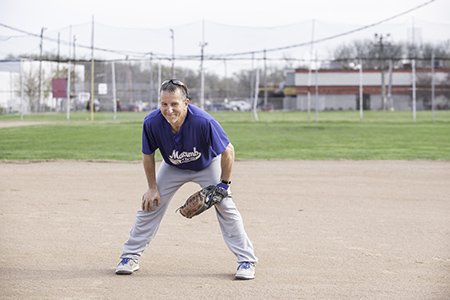 A program that works with Dave's lifestyle
His primary care physician, Faiz Askar, M.D., referred him to Henry Ford Macomb's Center for Weight Management. He started the HMR Decision Free program just after Christmas at 229 pounds. The medically supervised program uses nutritionally complete weight loss shakes and entrees in place of grocery store food. The program incorporates lifestyle education on healthy eating and physical activity with weekly coaching.
Dave found the meal replacements convenient for his busy schedule. "I work the night shift as a tool maker at Ford Motor Company. When I was working with no time to plan, it was easy to pop the meals into the microwave for a minute and be done." He said the cost of the meal replacements was comparable to what he had been spending eating out at places like McDonald's and Taco Bell.
By April, Dave had reached his goal weight and transitioned to Phase 2 of the program. He has maintained a 50+ pound weight loss for more than a year.
Dave had some success with other programs in the past but found the points system hard to follow and eventually gained the weight back.
"This plan is different. I like the structure and accountability, including the weekly weigh-ins. If you follow the steps, it's pretty easy to lose weight," Dave shared.
New healthy eating habits
He now includes a variety of fruits and vegetables in his meals, such as steamed broccoli, cauliflower, asparagus and Brussel sprouts.
He's replaced the chips, cookies or candy that used to be out on the kitchen counter with apples, oranges and bananas. "If the bad stuff is there, you'll eat it. If it's there for other people in your house, put it away. Out of sight, out of mind," advised Dave.
On his new eating habits, Dave said, "I feel full and satisfied. If I'm hungry late at night, I'll have a shake with spinach or kale. I've also learned to eat better when I go out. I'll plan for it, have some shakes to balance out my calories during the day. And I don't have as many beers."
More energy for activities
Besides playing softball and racquetball, Dave works out on his lunch hour and walks his hunting dogs several times a week to stay active. He feels "much better, with a lot more energy to do stuff" since the weight loss.
Dave gives high praise to his health educators at the Center for Weight Management. "I just love Lisa and Trish. They taught me a lot. They are never negative and always have a funny comment to make when I weigh in on Mondays."
"Dave is an inspiration to all those around him and has referred many friends and co-workers to our program," said Lisa Peters, R.N.
Now, Dave often gets approached by people about his weight loss. "They see my results and ask me how I did it. I tell them I learned a different way to eat. It's not a diet; it's a lifestyle change," said Dave.