Weight Loss Success Stories
Garrett Elliott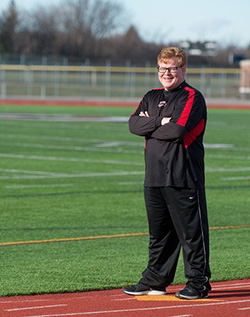 Garrett Elliott of Rochester Hills started 2016 more than 170 pounds lighter thanks to Henry Ford Macomb's Center for Weight Management program.
Garrett, 27, had always struggled with his weight. As a high school athlete, he learned to work out and lift weights. But once he got his driver's license, he fell into the habit of eating fast food whenever he wanted. His college lifestyle compounded the problem.
Over the years, Garrett tried many diets--usually with positive initial results--but he never found a program he could stick with and always gained the weight back. "I never learned the actual skills needed to maintain a healthy lifestyle. I had no idea," says Garrett. Eventually, he gave up trying. "It got to the point where I refused to see a doctor if I was sick because I didn't want to step on a scale and have to face someone telling me how out of shape I was," Garrett added.
In January of 2015, Garrett finally did see a doctor. "I stepped on the scale at my appointment and weighed in at 454 pounds. It destroyed me. The doctor put me on high blood pressure medicine. I lost it. I had finally reached my breaking point. I knew it was time to change or I was going to have a heart attack and die," recalls Garrett.
His doctor referred him to Henry Ford Macomb's Center for Weight Management, where he started the HMR diet. Garrett lost 172 pounds in 11 months.
"I love my experience with the Center for Weight Management," says Garrett. "A big part of my success has been the support I've received from my health coach. She never made me feel uncomfortable or embarrassed when I first started. She motivates me when I have tough weeks and she's very focused on my physical activities."
Garrett is loving his new active lifestyle, which includes coaching high school football in the fall and playing slow pitch softball in the spring. "I'm a runner now!" says Garrett. "When I started this diet, I couldn't run from my front door to my mailbox. In November, I ran the 10K Turkey Trot. Running has become my de-stresser."
---
HMR at Home® Diet (with phone support) Data Notice: HMR® national data published show average weight loss of 23-28 pounds.6,7 6 Obes 2013; 21:1951-1959, 7 Int J Obes 2007;31:1270-1276.