Weight Loss Success Stories
Shelby Township couple reached weight loss goals together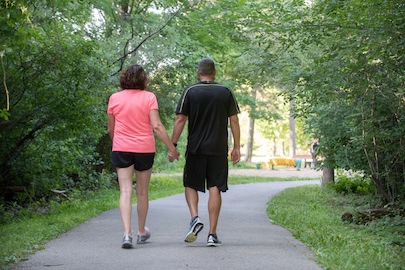 Jeff Tackett works as an electronics technician for the Michigan Air National Guard. Although he is a civilian employee at Selfridge ANGB, he is still required to pass an annual physical fitness test—something he had struggled with in recent years.
Realizing that the extra pounds he was carrying could jeopardize his job, Jeff decided to take charge of his health and enrolled at the Henry Ford Center for Weight Management in February 2017. His wife Sue decided it would be easier if they did the program together, so she signed up with him.
The Shelby Township couple started with the Decision-Free Diet, a medically supervised program with proven results. It uses HMR's nutritionally complete weight-loss shakes and entrees in place of grocery store food. The program incorporates lifestyle education on healthy eating habits and doable levels of physical activity along with weekly coaching calls.
By May, Jeff had lost 58 pounds, while Sue had impressive results of her own, dropping 30 pounds.
"We saw results almost immediately, which made it easy to stick with the diet," said Jeff.
Best of all, they have both maintained their weight loss for more than one year. They are now on the Simple Choices diet, a maintenance plan that includes regular low-fat food and shakes.
"We still attend weekly classes at the Center for Weight Management, which offers good reinforcement and recipe ideas. It also helps to hold us accountable," said Sue.
Their weight loss success has even inspired two other couples in their circle of friends to try the Center for Weight Management.
Jeff notes that diet alone didn't get them to their goals. They also committed to exercising together.
"Before, I really didn't want to do anything," said Jeff. "But I started running and finished my first 5K in May (2017). By September, I took first place in my age group in the Sprint Triathlon, which included a 5K run, 14-mile bike ride and 800-yard swim."
Besides running together at different local parks, the couple also joined the Main Street Bike Club in Washington Township and participate in weekly group rides. They also enjoy scuba diving and noticed that since they've gotten into better shape, they even use less air.
"My advice to others is to find a physical activity that you enjoy so it won't seem like work. And if you can do it together, even better," said Sue.