Weight Loss Success Stories
Chesterfield Township woman says ongoing support was the key to her long term weight loss success.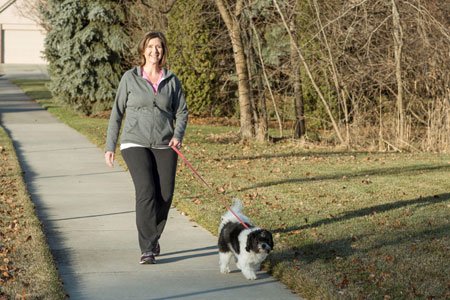 Karen Pensyl is a "rock star" in her weight loss support group. She lost more than 125 pounds in just over a year and has kept if off for nine months with the help of Henry Ford Weight Management Center Macomb.
Karen says the best part about her weight loss is feeling great overall when she wakes up in the morning. "I'm pain free. I was having trouble sleeping, feeling achy and uncomfortable. Now I sleep well, and I feel great."
Other benefits? "I have much more energy," says Karen. "I'm not as self-conscious. I can travel without worrying if the seatbelt will fit. (I never needed the extension, but it was close.). I don't feel out of breath anymore."
Karen had tried many programs in the past. She'd lost weight before but wasn't able to maintain it long-term because the coaching and mentoring aspect wasn't there.
In December 2016, she found Henry Ford Weight Management Center Macomb, where she started their Decision Free Diet by HMR. After about five months, she transitioned to Phase 2, which offered her more variety in her food choices, just before she left for a vacation.
Now, she's changed the way her family eats, including less dining out, more healthy cooking and more fruits and veggies in their diets. Her husband and daughter, who were already a healthy weight, have gladly adopted the changes and been supportive of her efforts.
She says using the "buddy system" also helped her to achieve her weight loss goals. "My friend and I work out together and support each other a tremendous amount. We've done 5Ks or met at the Macomb Orchard Trail and walked in the morning before work," notes Karen.
During cold weather, Karen gets physical activity using exercise DVDs, YouTube videos, the elliptical, treadmill and a weekly Zumba class. "If it's at all nice out, I'm outside. I like walking and bike riding. I work from home, so I'm able to take my dog for a walk on my lunch break," says Karen.
She still attends a weekly weight loss support group at Henry Ford Weight Management Center Macomb, led by a trained lifestyle support coach. "It's convenient because it's right by my house and the pharmacy there sells the HMR products." She believes that coaching is critical to her long-term success.
"My Henry Ford Macomb coaches are so encouraging and knowledgeable about weight loss," said Karen. "The information they provide on a weekly basis is so relevant to what I'm experiencing. Part of staying on track is my weekly 'therapy' (group support session). I also enjoy the camaraderie of meeting with other people who have shared challenges."
Her advice to others with a goal to lose weight in 2019 is simple: "Start."
"I spent three years talking about losing weight before I finally took action. I felt embarrassed that I'd gotten out of shape and I didn't want other people to judge me. Taking that first step was the biggest hurdle—it took courage. Now I tell other people, 'Call the center, get the consultation and join a group. You'll be so glad you did.'"