Weight Loss Success Stories
Weight loss improves overall health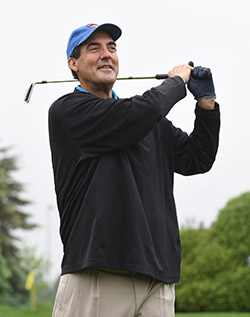 Louis Stock of Chesterfield Township started at Henry Ford Macomb's Center for Weight Management in May of 2016. In 11 months, the retired law enforcement professional had lost more than 100 pounds and saw symptoms of significant medical issues improve or completely reverse as a result of the weight loss.
"I have been amazed and gratified, even humbled by the results," says Louis, who no longer takes daily medication to control high blood pressure and Edema. In fact, his cardiologist has cleared him for a full range of physical activities.
Excess weight had also caused problems with his lower back, feet and knees, all of which have improved greatly, allowing him to avoid surgery. "For these things, I am very thankful," Louis says.
"I could or should have taken these steps many years earlier. I tried other programs, but with no lasting success. Then, at a time that I was really frustrated but determined, I learned about the HMR program. I found the right program with the right people and the right structure and things started to fall into place," he recalls.
The Center for Weight Management teaches the nationally-recognized, award winning HMR program, which is structured with many support elements: Medical Supervision in Phase 1, informative and interactive classes, accountability, a sense of community, informed and experienced coordinators, support groups and much more.
"When I start to get off course, there are so many resources for me to use, that I get back on course very quickly. All I have to do is follow the program, use the information, and share and listen to others who are on the same path," says Louis. "Not to say that the program has been easy; far from it. But once I committed to this course of action, the structure of the program kept me from falling away. When it seems overwhelming, I simply incorporate what I can into my daily exercise schedule or meal plan and catch up as soon as I'm able. Taking inspiration from my educator, Lisa Peters, I try to never give up or throw in the towel and always try to work around or through a problem."
Looking ahead, Louis is excited about the new possibilities the program has brought about. Physical activities that were not realistically within reach are now very much a part of his daily life. The way he reacts to and manages stress is much more effective now. "Doors to healthier living that I once thought were closed to me are now wide open. And I so much appreciate those things," he concluded.