Weight Loss Success Stories
Sustainable weight loss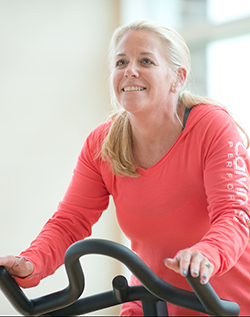 At age 41, Natalie Anter began to reevaluate her life. She realized that she wanted to enjoy a healthier, more active lifestyle and to avoid the sort of health problems that run in her family, such as high blood pressure, heart disease and type 2 diabetes.
Natalie had carried extra weight since she was a child and tried seemingly "every diet out there", but never with lasting results. Although she worked out at the local YMCA, she would often stop for fast food on the way home. Something had to change.
Some friends at work had lost weight through the HMR diet. After attending an orientation at Henry Ford Macomb's Center for Weight Management in Shelby Township, Natalie decided to give it a try.
"I signed up for the Decision Free Diet, which was perfect for me, since cooking is not my thing," said Natalie. She started the program in October 2011 and by July of 2012 had lost 70 pounds and achieved her goal weight. The best part is, she's kept the weight off for more than five years.
"Staying connected has really helped me not to fall back into bad habits," explained Natalie. "I still attend a monthly meeting and receive weekly emails with recipes and class lessons."
Natalie credits the tools that she gained through the Center for Weight Management with her long term success. "I learned so many ways to help myself stay on track. The most important thing I do is to prepare my meals the night before. I've adopted the motto, 'Failing to prepare is preparing to fail," said Natalie.