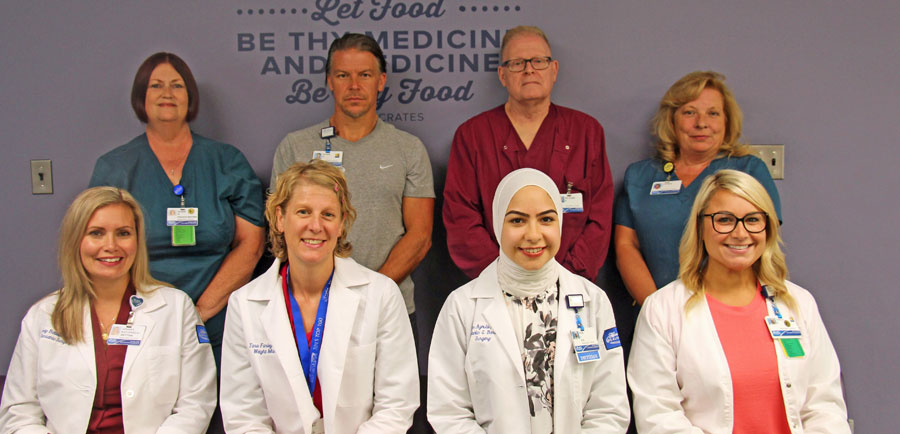 Lindsey Battistelli, MS, RDN
Practice Manager and Registered Dietitian Nutritionist Lindsey Battistelli oversees the Metabolic Health and Weight Management program at Henry Ford Wyandotte Hospital. With more than 10 years working with patients on weight management, Lindsey enjoys helping others to achieve a healthier lifestyle, decrease medications and spend time doing more activities with family and friends. Lindsey has her master's degree in applied nutrition with a concentration in overweight and obesity from Northeastern University, and earned her bachelor's degree in the dietetics program at Wayne State University. She also has her Certificate of Training in Adult Weight Management from the Academy of Nutrition and Dietetics. She has contributed to weight management publications and presented at many events. She understands that weight management is a complex disease that needs lifelong management. Lindsey enjoys spending time with her family and friends, and her English Mastiff. She also enjoys cooking, gardening, piano, reading, biking and running.
Nur Ayoubi, RD
A registered Dietician, Nur Ayoubi completed her degree in dietetics at Wayne State University. As a registered dietitian, she has a passion for educating and helping her clients achieve and maintain their weight goals through healthy lifestyle changes. She is grateful for the opportunity to share and celebrate her patients' achievements along their health and weight loss journeys. Nur loves spending time in the kitchen and exploring different cultures through food.
Emily Jacobs, LBSW, CPT
A Health Coach and Certified Personal Trainer, Emily Jacobs enjoys working with patients to create happy and healthy lifestyles in a way that is flexible, fun and rewarding. Coaching therapeutic lifestyle classes, she helps patients navigate all aspects of health and wellness. Emily co-teaches Henry Ford's Semi-Private Personal Training Sessions, specializing in strength and resistance training. She enjoys boating and spending time with friends and family.
Mark Orel
With more than 20 years' experience in the health and fitness field, Mark Orel, Certified Personal Trainer and Exercise Physiologist, has been with Henry Ford Wyandotte Hospital for over 5 years. Mark started the semi-private personal training exercise program at the Metabolic Health and Weight Management program in 2014, teaching one class a week. He now teaches 10 classes a week. In his spare time, Mark enjoys boating with friends and his dog, Mali.
Additional team members
Richard Hebeeb
Valerie Fasca
Marie Hill