A husband and wife cross the Atlantic Ocean for life-saving colorectal surgery
During a routine virtual colonoscopy in his home country of Ghana, West Africa, Abraham Donkor knew something was wrong. After immediately undergoing a CT scan, his fear was confirmed: he had colorectal cancer.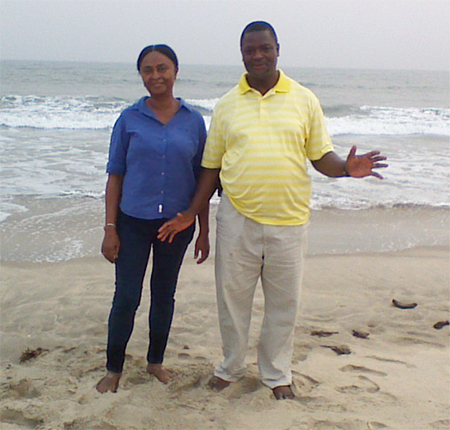 Abraham knew he wanted to have robotic surgery, and believed America was his best bet. He and his wife, Roukia, reached out to their son and daughter-in-law, a nurse at Henry Ford Hospital in Detroit, MI. She let them know about the international patients program. They made contact and explained their situation to Andréa Hill, a care coordinator within the program. She organized an appointment with colon and rectal surgeon, Craig Reickert, M.D.
Despite the more than 8,755-kilometer distance, they took a leap. They boarded a plane and headed for their son's home in Windsor, Ontario, where they would be staying before and after the surgery. Andréa stayed in constant contact with the couple leading up to the flight and after their first appointment at the hospital. Roukia fondly recalls her assuring them that, "if you aren't sick of my face by the end of this, I didn't do my job."
"It was so fast," says Roukia. "We arrived in Windsor on Saturday and had our first appointment on Monday." When Dr. Reickert suggested Abraham have a traditional colonoscopy, the pair were in on Wednesday for the procedure. After he found out that the couple wanted to use a robotic approach to surgery, he did not hesitate to introduce them to colon and rectal surgeon, Edwin Itenberg, D.O.
Abraham underwent colorectal surgery on Monday, October 21, 2019 at 10 p.m. "After the surgery, Dr. Itenberg came to tell me how Abraham was doing," says Roukia, "Not a nurse, not a P.A., Dr. Itenberg came himself. I was blown away." During the update, Roukia asked about Abraham's red blood count, knowing that a tumor can cause patients to become anemic. "He said that my husband didn't need a blood transfusion," she recalls. "I couldn't believe it! However, it was true: he's healthy. He's doing well."
Roukia stayed by Abraham's side for the three nights he was in the hospital, sleeping in the room and longing for him to stay well. Following discharge, Dr. Itenberg gave Abraham a prescription for opioid tablets and Tylenol to reduce any pain. "Judging by the pain level, I've been through far severer pain than that," he chuckles. "Even though I received the opioid prescription, I didn't use it." After three weeks, he was off even the Tylenol.
"I am back to my duties," says Abraham. "We, in all this, give thanks to God Almighty for all He has done for us and also thank the doctors and the staff of Henry Ford Hospital in Detroit."