Former Cancer Patient Joins Forces With Fellow Survivors to Build Game On Cancer Team
If you asked her, Lori Vest would tell you that 2018 was an extremely challenging year.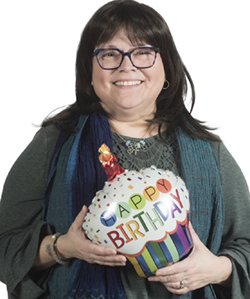 "It was a good year and a horrible year," she says. "I lost my full-time copywriter job in February. Fortunately, my husband and I were able to start our own digital marketing company and we really enjoyed working at home together. We loved being self-employed, though as a small business, one of our biggest concerns was the cost of health insurance."
Unfortunately, that August, Lori was diagnosed with triple-negative breast cancer (TNBC). "It was a shock," says Lori. "I was terrified. Breast cancer doesn't run in my family, so I figured I was safe. I wasn't."
Lori began her cancer journey with another health system. Soon, though, she started to feel like she was just one of many faceless patients, as though the physicians and staff did not care about her emotional needs. By chance, she heard about Henry Ford Health's Game On Cancer.
"I have a relative that fundraises for Game On Cancer," says Lori. "When she told me more about it, I immediately thought I should get a referral to Henry Ford."
Right away, she noticed that the care at Henry Ford was more personal: "The day I got my diagnosis over the phone from the other health system, I was told to wait until the next week to see the doctor and start figuring out what to do. Instead, I called HFCI and was able to get in touch with a nurse navigator and get all of the paperwork initiated immediately," she says. "Plus, she put me in touch with a nurse who is a survivor, which immediately made me feel less terrified."
With her new care team in place, Lori was ready to fight. The recommended treatment protocol for Lori's type of breast cancer includes surgery, chemotherapy and radiation. Her treatment extended over eight months and two years of deductibles.
"It was an incredibly stressful time, because I was going through treatment and working full-time to pay the bills," she says. "I'm the primary breadwinner of our family. Not only was I sick, but our health insurance and medical bills were eating up more than 30% of our income."
Every year, hundreds of Game On Cancer fundraisers form teams and raise money for people in active treatment like Lori. For many patients, Game On Cancer support is the only help they get to relieve toxic financial stress that can adversely affect their treatment.
Game On Cancer covered two mortgage payments so that she and her family could put that money toward overdue medical bills.
"It was a huge relief. I felt like I could breathe easier and focus on healing," she says.
Now that Lori has completed her treatment, she has formed Team Tougher Together, a Game On Cancer team for survivors as a way to give back to current patients.
"Once you've been through it, you really understand how financial assistance can make a huge difference in your recovery," she says. "I'm so grateful to those who give so that Game On Cancer could help my family."