Patient Receives Life-Changing Acupuncture Thanks to Henry Ford Game On Cancer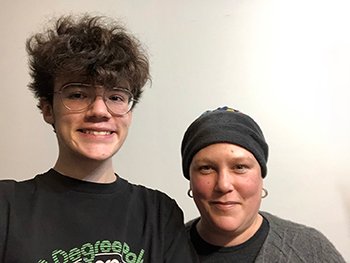 When Michelle Magee learned she had breast cancer, her first thought was not about herself, but of her 15-year-old son.
"I wanted things at home to be as normal as possible, and for him not to worry about me," says Michelle.
However, it's hard to feel normal while undergoing treatment for cancer, and Michelle was no exception. Not long after her mastectomy, she had to begin chemotherapy to keep the cancer from returning. Now on top of recovering from her surgery, she felt nauseous and fatigued, sapped of the energy she needed to care for her son, walk her dog or even cook the healthy food her body needed. When she mentioned how she felt to her physician assistant, the PA suggested that she try acupuncture.
At first, Michelle wasn't sure. She'd never tried holistic medicine before, and because she knew that acupuncture was not covered by insurance, she did not think she would be able to afford any additional expenses. Cancer had forced her to take three months off work, and already she had bills for hospitalizations, prescriptions and medical equipment. But then her PA told her some good news: Game On Cancer, a Henry Ford Health program, would pay for acupuncture for patients who qualified. In fact, it had funded nearly 300 treatments for cancer patients in the previous five months.
Michelle gratefully jumped at the opportunity, and booked an appointment to see Zeyaid Elias, Doctor of Acupuncture and Oriental Medicine at Henry Ford's Center for Athletic Medicine.
"My job is to try and minimize many of the adverse effects associated with surgery, chemo and radiation," says Dr. Elias. "I do what I can to support the oncologist's plan of action, by helping patients endure the physical and mental strain of cancer treatment."
Dr. Elias's treatments worked: Michelle's weekly acupuncture sessions helped her regain her energy and completely eliminated her nausea. It has also enabled her to do more things around the house, maintain a healthy diet and even go back to work.
"Knowing that I am able to access acupuncture is huge: I trust that Dr. Elias's skills will help me get through any new side effects," says Michelle.
Best of all, thanks to Game On Cancer donors and fundraisers, Michelle has been able to return to what matters most to her: family.
"This has made a huge difference in my everyday life, and to my family," she says. "It's changed my outlook and how I cope with cancer treatment. I am much more positive than I would have been without this gift."