Didactic Curriculum
2 months: core curriculum
Nephrology Grand Rounds
Journal Club
Research Conference
Biopsy Conference
Case Conferences (Dialysis, Consults)
Intracity Kidney Grand Rounds
Nephrology Self-Assessment Program and board review conferences
Transplant conference
Sample Conference Schedule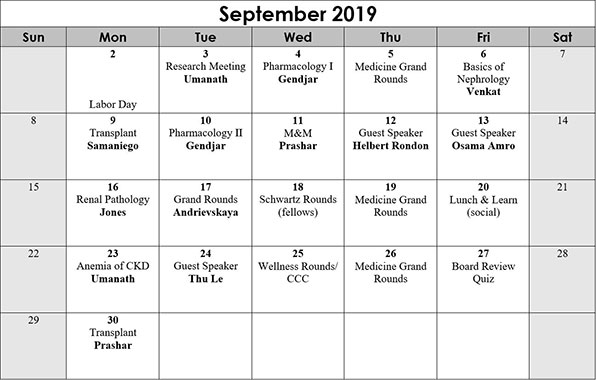 There is an extensive didactic curriculum covering all aspects of renal physiology and pathophysiology, clinical renal disease and hypertension, critical care medicine, renal transplantation, conventional dialysis and continuous renal replacement therapies. During the first two months of the academic year, core curriculum lectures are presented to rapidly familiarize new fellows with basic concepts and sufficient knowledge to effectively fulfill their new clinical responsibilities.
For the remainder of the academic year, conferences, seminars, and safety/quality improvement activities are conducted 4-5 days weekly. These include Nephrology Grand Rounds, Department of Medicine Grand Rounds, journal clubs, clinical case conferences, research conferences, medical-surgical transplant meetings, pathology conferences, end-stage renal disease conferences, Nephrology Self-Assessment Program review, and morbidity and mortality review. Conferences are conducted in our high-tech conference room equipped with high-definition wall display monitors and smartboard and video recording and conferencing capability. All presentations are archived and videotaped for subsequent web-based viewing at the convenience of the learner.
The internationally recognized faculty of the Hypertension and Vascular Research Division enhances divisional faculty endeavors. This Division's members regularly attend or give basic science lectures and journal clubs. Each year our visiting professor program hosts monthly lectures delivered by nationally and internationally known nephrologists who share their respective areas of research and clinical expertise to the Division. Visiting professors typically give both a basic science and clinical lecture, and also meet separately with the fellows to review case studies.
Each fellow has one continuity clinic weekly and one home dialysis clinic (including peritoneal dialysis and home hemodialysis) monthly, with the opportunity for longitudinal follow-up of patients from the time of initial evaluation as either inpatients or outpatients until the completion of their training.
Overall, this rigorous and comprehensive clinical experience ensures that fellows are qualified to function as independent nephrologists. Lastly, because there are active heart and liver (>150 per year) transplant programs within the institution, trainees will develop their skills in the comprehensive management of these patients also.
The primary inpatient activity for Nephrology fellows is the Nephrology consultative service. There are two teams, each consisting of a Nephrology attending, a Nephrology fellow and one or more medical house officers and medical students. These teams evaluate and follow inpatients requiring Nephrology care that are not admitted to the Nephrology inpatient floor. These patients are referred from the surgical, medical and obstetrical services.
Approximately half of the patients are in one of the intensive care units (surgical, medical, or neurology/neurosurgery). The 148 ICU beds and a busy Level 1 trauma-certified Emergency Department provide diverse and intensive clinical experience involving acute renal failure, intoxications and the renal complications of many systemic disorders.