Puff City is a web-based asthma management tool designed to help urban teenagers deal with their asthma or breathing problems
The program uses a method called "tailoring" which provides feedback that is based on information thought to be relevant for each individual participant of the program. The Program was funded in 2001 and officially kicked off in 2003 with six Detroit Public Schools agreeing to participate.
Students were required to complete necessary surveys and consents and have an asthma diagnosis or symptoms of asthma in order to participate. Students were then randomized into two groups (Group A and Group B). Students in Group A received Puff City¹s tailored asthma management program, while students in Group B received existing web-based asthma education materials.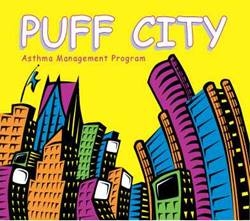 Students who received the tailored program experienced
A 50% reduction in ER visits due to asthma.
A 50% reduction in hospitalization visits.
A 60% reduction in school days missed due to asthma.
A 36% reduction in nights awakened due to asthma symptoms.
Results of the initial evaluation were used to identify factors predicting sustained improvement, relapse, and resistance to change. This information was then used to guide modifications in subsequent iterations of the program. The program is now being evaluated in the Emergency Department and in clinical settings. Plans are also underway for a Latino/Spanish-language version of Puff City.
Investigators involved in this study include
Principal Investigators
Christine LM Joseph, Ph.D.
Mei Lu, Ph.D.
Co-investigators
Christine Cole Johnson, Ph.D., MPH
Dennis Ownby, M.D. - Georgia Health Sciences University
Edward Peterson, Ph.D.
Please direct any inquiries to the Puff City team at (313) 556-7833 or puffcity@hfhs.org.