Building a Knowledge-Bank for Analyzing Glioma Outcomes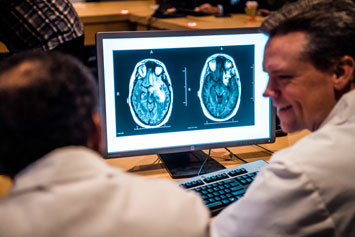 As a researcher with the Hermelin Brain Tumor Center (HBTC) and Henry Ford Cancer Institute (HFCI), Dr. Laila Poisson has a focus on glioma and other CNS tumors. For several years, she served on analysis working groups in the glioblastoma (GBM), lower grade glioma (LGG), and pan-cancer efforts of The Cancer Genome Atlas (TCGA); HBTC contributing 240 (~25%) of the glioma cases. Landmark papers on the molecular features of glioma were published from these teams, marking a new era of molecular diagnoses and precision therapy. Now, as of 2016, the World Health Organization (WHO) diagnosis criteria for glioma requires assessment of two molecular markers.
With molecular technology advancing, it is Dr. Poisson's long-term goal to generate a resource that capitalizes on the longitudinal tissue sampling and clinical data of brain tumor banks. Such a resource would allow rapid assessment of molecular hypotheses for prognosis and treatment.
The Hermelin Brain Tumor Center is home to a clinically annotated brain tumor bank, from which 240 glioma cases have already been molecularly and clinically profiled by TCGA. Dr. Poisson's current work (NCI R01CA222146) seeks to expand the molecular and clinical profiling to 550 glioma cases (WHO grade II-IV), with a focus on therapeutic outcomes, recurrent disease, and extended survival, which were not captured in the TCGA project. She has constructed an interdisciplinary team of collaborators, with clinical and informatics expertise. Molecular data will be generated by exome sequencing and DNA methylation array. Together this will provide somatic alterations, copy number variants, and the methylome for all specimens (FFPE or frozen). Clinical annotation from the tumor bank, including long-term follow-up and therapy regimens, is being added to each of the profiled glioma cases.
The resulting comprehensively-annotated tumor bank will be an invaluable resource for queries of clinical-molecular associations and the progression of disease, made available to researchers at Henry Ford and beyond. Dr. Poisson is particularly interested in addressing two analytical aims: (1) to design statistical models of prognosis and therapy response among modern diagnosis classes using retrospective records; and (2) to identify genomic differences, per patient, arising over the course of treatment and progression, which are expected to impact therapy decisions and inform standard treatments strategies. With her team, she will also explore the genomic patterns and clinical response of patients with exceptional survival, which may indicate differential molecular diagnosis or suggest therapeutic avenues for extending survival in others.
While the molecular data are being generated, Dr. Poisson is co-leading a team of clinicians and researchers with the Glioma Longitudinal AnalySiS (GLASS) consortium to define a set of common data elements (CDEs). Using a consensus-of-experts approach, over 100 CDEs have been defined to capture the clinical course of disease. The CDEs are being field tested by certified medical abstractors at Henry Ford as part of the data collection for Dr. Poisson's R01. She will seek feedback and promote adoption of the CDEs through presentations at the 2019 Joint Statistical Meetings and the 2019 Society for Neuro-oncology annual meeting. Clinical data harmonization between institutions is a major hurdle for harnessing tumor banks for outcomes research. Wide-spread adoption of glioma CDEs provides the means to clear that hurdle.