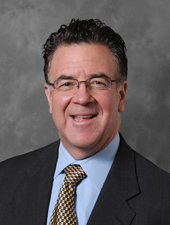 Vice President, Operations and Chief Nursing Officer, Henry Ford Macomb Hospitals
Michael provides strategic leadership and oversees day-to-day operations management. He leads and is accountable for all inpatient and outpatient nursing operations. Additional responsibilities includes Safety and Security and Inpatient and Outpatient Rehabilitation.
Michael started at Henry Ford Macomb Hospitals in 2013. Before that, he worked at Trinity Health for 30 years serving as Executive Director for Emergency Services, Chief Nursing Officer and Regional Executive for Hospital and Ambulatory Operations for the North Region of St. Joseph Mercy Ann Arbor.
Michael received his bachelor of science in nursing from Mercy College of Detroit and a master of science in nursing and master of science in business administration from Madonna University.
Markel serves as the executive sponsor for the Employee Resource Group (ERG) ABLE that promotes awareness and inclusion for disabled team members within Henry Ford Health.
He also serves as chair for "One Voice for Michigan Nursing," where he leads some of Michigan's most influential nursing leaders to create a Center for Nursing Advocacy.
His current board appointments include Macomb County Medical Control Authority, Coalition for Michigan Organizations of Nursing (COMON) and Midwest Chapter of the American College of Health Care Executives (MCACHE). He has held several positions with the Michigan Organization of Nurse Leaders.
He has more than 30 years of experience with pre-hospital emergency care and fire service operations and formerly served as a volunteer lieutenant with the Waterford Regional Fire Department.