After helping build a new Virtual Prenatal Program, analyst gets a chance to take it for a test drive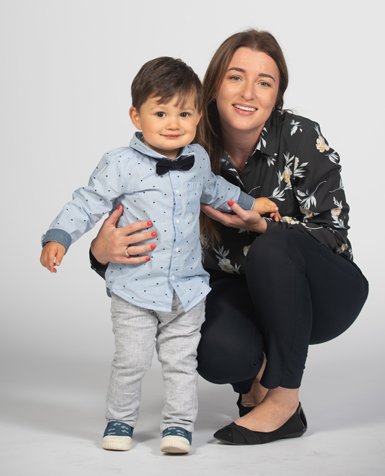 Before Daria Aybusheva participated in the pilot launch of Henry Ford Health's Virtual Prenatal Care program, she was working as a principal performance measurement analyst for the project, putting together calculation methods to determine the cost of care.
Then, just as the new service was being rolled out, Daria, age 35, learned she was pregnant. "I knew I had to try it. I was part of this project, supporting it, so I wanted to see how it would actually work." There was a mix of excitement and nervous anticipation as she started the program. "Having a video call versus meeting your OB/GYN in person is just different," Daria admits. "It feels like you're doing it yourself, but you aren't." As a participant, Daria was given a blood pressure cuff and a portable fetal Doppler, a hand-held device used to detect baby's heartbeat.
Using the at-home tools, along with the Health System's MyChart online health care management tool, patients can do a portion of their routine prenatal checkups from whatever convenient setting suits them. While patients typically have their video visits from their home or workplace, some patients have logged on for their video visit while away on vacation.
The "virtual visit" takes place with one of several Henry Ford Certified Nurse Midwives (CNM), in place of an in-person meeting with their regular OB/GYN or midwife. For Daria, that meant saving time and adding convenience. "I would send my midwife a message and she would respond within the hour," explains Daria, "I didn't have to drive 30 minutes back and forth for an appointment."
On March 1, 2018, Daria gave birth to Maxwell, a healthy baby boy. After the success of her first pregnancy, Daria says she already knows moving forward, "If I decide to have a second child, I'm definitely going with the program again."