How virtual OB services brought a family together to listen to one heartbeat.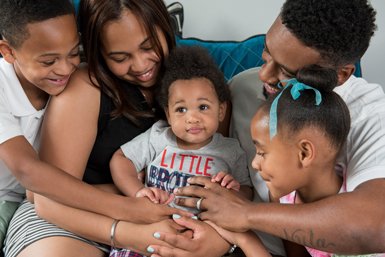 Latricia Miles, 32, is the mother of three beautiful children: Nickolas, 9, Nyla, 7 and Steven, 1. Each of her pregnancies were different, but one stood out.
In March 2018, Latricia, four months pregnant with Steven at the time, learned about Henry Ford Health's Virtual Prenatal Care pilot program. The program provides each mom with a portable fetal Doppler, a hand-held device used to detect the baby's heartbeat, and a blood pressure cuff. These devices allow women to do health check-ins from home. Latricia learned she could sign into MyChart, Henry Ford's online health care manager, and connect to a private video conference with one of Henry Ford's certified nurse midwives for some of her prenatal checkups.
As an experienced mother of two, Latricia decided to give the program a try. She felt that the virtual visits would save her time, gas and stress as she progressed through her pregnancy and her visits became more frequent. "It was so convenient. I have a busy schedule. Between my children, work, my husband and just having other personal things to do, it let me do everything."
In addition to getting time back, Latricia was able to include her entire family in the pregnancy. "I would tell my kids, 'this is our baby, because you have to protect your brother just like we have to protect him. So it's OUR baby.' That's just the way we look at it."
This is your little brother.
When Latricia was pregnant with Nyla, the then 2-year-old Nickolas was involved in every step of the process, even staying in the hospital overnight when she was born. Latricia wanted to keep this dynamic with her third baby. "They knew before anyone else that we were having a baby, they were the first to see the 3D ultrasound and they were the first to see the baby." With the at-home fetal Doppler, Nickolas and Nyla could hear their growing brother's heartbeat. "I didn't have to take my children to the doctor with me to listen to the baby's heartbeat. I could just use the Doppler when we were all together and say, 'this is your little brother,' and they really liked that."
Latricia is enthusiastic about recommending virtual prenatal care to family, friends and colleagues. "I talk it up as much as possible. If you're looking for convenience, this is it. And the professionalism that they maintain in the clinic is the same professionalism that was maintained through the virtual visits."