Keloid Removal Patient Story
Alicia now looks forward to wearing a ponytail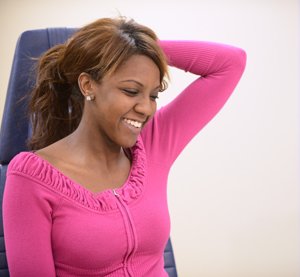 This summer will be the first in many years that Alicia James of Redford, Mich. will be able to wear her hair up in a ponytail – and she can't wait.
Since she was 16 years old, James has worn her hair down in an effort to cover large and painful keloids that developed on her upper ears after getting her cartilage pierced.
Keloid scars form raised, firm skin areas that may become itchy, tender and painful. Unlike regular scars, keloids do not subside over time and often extend outside the wound site.
Keloids most often occur on the chest, shoulders, earlobes (following ear piercing), upper arms and cheeks. The lowest rates of keloid formation have been documented in albinos and the highest seen in dark skinned individuals, especially in the African-American population.
For James, about six months after having her cartilage pierced, the piercing became infected. She started to notice the formation of small bumps around the area, but being so young, she says she didn't think it was a problem.
But the "bumps" continued to grow.
Hard, itchy and painful, James began doing some research and determined the bumps were keloids. She then made an appointment to see a dermatologist.
That appointment, and others that would follow, proved unsuccessful, however. The keloids showed little improvement.
"They would inject me with steroids to try to soften or shrink the keloid," James says. "But I had a hard time dealing with all of the shots. I just wanted to get them removed."
That's when a co-worker referred her to Lamont R. Jones, M.D., vice chair, Department of Otolaryngology-Head and Neck Surgery at Henry Ford.
Dr. Jones, who's been conducting research on the genetics of keloids, devised a plan to remove James' keloids and prevent them from returning with the use of an ear pressure cuff.
For James and all of his patients, Dr. Jones tailors keloid treatment to the individual.
Treatment for keloids includes cortisone injections, pressure dressings, silicone gels, surgery, cryosurgery (freezing), laser treatment, or radiation therapy. A combination of treatments may be used too.
James had her keloids removed in March by Dr. Jones and she's been thrilled with the results.
"My ears look and feel awesome," she says.
Request a Consultation
with a Facial Plastic Surgeon
Improvements in keloid treatment