For Mark Phillips, Saturday mornings consist of a pick-up game of soccer with friends and breakfast at a local diner. One morning in June, his routine was interrupted. While enjoying a post-game, and birthday, breakfast, Mark began feeling light headed and "off".
"I got up and went outside to get some fresh air, thinking maybe I could shake the feeling," says Mark. "When I returned to the table, my speech had begun to slur and my tongue felt like it was swelling inside my mouth."
Fast action from family, friends and the Henry Ford Stroke Team helped save Mark's life.
Not sure whether Mark was having an allergic reaction or something else was going on, his wife, Tracy, along with his friends, Sam and Luke, sprang into action and looked up the nearest emergency room on their phones. There were a few options available, but Tracy decided, "We're going to Henry Ford – that's where I'm comfortable going".
"I don't normally attend breakfast with him, but since it was his birthday, I figured I would surprise him," says Tracy. "I'm glad I did, and I'm glad we came to Henry Ford."
Upon arriving to the Henry Ford West Bloomfield Hospital Emergency Room, the medical team evaluated Mark using the National Institute of Health Stroke Scale to determine the severity of his stroke. Initial results put him at at a one on the scale, but that wouldn't last long as he began experiencing an elevated blood pressure and eventually left side paralysis. Dr. Justin Kessler, emergency medicine physician, contacted the Henry Ford Stroke Team and the two teams began working together to determine the best care plan for Mark.
Team work to save Mark's life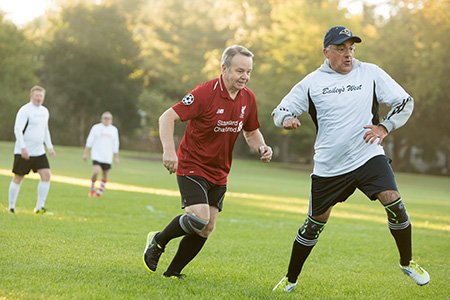 Mark underwent a computed tomography (CT) scan, which provided real-time results to Dr. Kessler and the on-call neuroradiologist that showed an ischemic stroke. He had one blockage in his brain and two in his neck region. Dr. Kessler administered tissue plasminogen activator (tPA), while the interventional radiology team assembled to retrieve the clots.
"The real hero is Mark's wife, Tracy. If she had waited even a few more minutes to bring him in, the results could have been significantly different in this case," says Dr. Kessler. "We were within the appropriate window to administer tPA and allow our interventional team to get in and remove the remaining clot. The cross-team collaboration not only saved his life, but allowed for minimal residual effects from his stroke."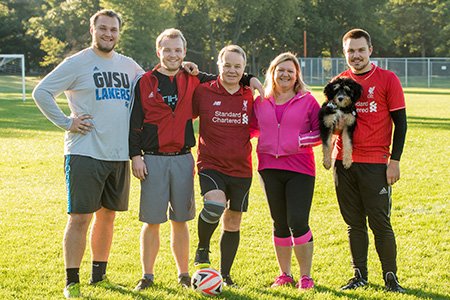 The response to tPA was almost immediate in Mark's case as he regained consciousness, and he left his family and friends with a thumbs-up before being transported to the procedure room. "We told him that France had beaten Argentina in the FIFA World Cup playoffs and he gave us a thumbs-up. That's when I knew he was going to be alright," says Tracy.
The interventional radiology team, led by Dr. Max Kole, was able to perform a thrombectomy, an interventional procedure of removing a blood clot from a blood vessel.
Returning to the field
Five weeks after his stroke, Mark returned to his Saturday morning route – a pick-up game of soccer with his buddies and breakfast at his favorite diner. "My goal was to get back on the soccer field, and I was able to do that without the need for occupational, physical or speech therapy," says Mark. "I can get back to life again, thanks for the team at Henry Ford."