Excellent Outcome through Rehabilitation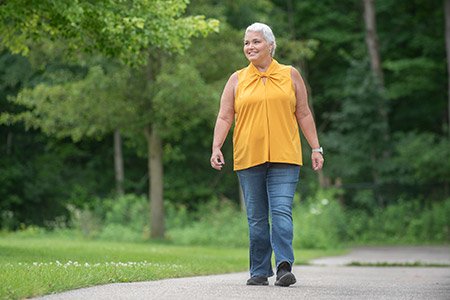 Stephanie Glugla of Burton, Mich. is a rehabilitation success story. She contracted COVID-19 in October 2020 and spent more than four months at Henry Ford Macomb Hospital—much of that time in the Intensive Care Unit, on a ventilator. Stephanie was scared she might never walk again, but thanks to a combination of Early Rehab, Inpatient Rehab and In-Home Rehab, she's made a remarkable recovery.
Early Rehab
Early Rehab in the Critical Care program can help decrease time spent in the ICU or hospital and reduce the numbers of days spent on a ventilator. The program implements treatment within 24-48 hours after a patient is medically stable.
Stephanie lost most of her physical strength over her lengthy stay in the ICU. She could barely lift a finger. But she could visually track her therapists around the room with her eyes and turn her head slightly to look at them.
The team began working with Stephanie as soon as she could tolerate therapy, working around the many medical lines and tubes that were in place.
"Lines and tubes make it more difficult, but don't prevent us from trying to get the patient moving their arms and legs or sitting at the edge of the bed, though we might need more people to do it safely," said Rachel Titche, occupational therapist.
They started with simple exercises that would help preserve muscle memory, including lifting her head from the pillow or holding a pen. She slowly progressed to sitting up to get used to being upright again.
Initially, Stephanie felt so awful, it was difficult for her to participate in her therapy. Her therapists had to push her throughout most of her ICU stay.
"Anything new we introduced, she was nervous to try," said Titche. "But she is just so strong. She fought through her anxiety and medical instability."
The therapists were even able to get Stephanie outside for some fresh air and sunshine on a couple of occasions. "When you change the patient's environment, it gives them hope for the future. It motivates them and improves their outlook," Rachel said.
Inpatient Rehab
Stephanie benefited from a smooth transition and continuity of care by eventually transferring to Henry Ford Macomb's Inpatient Rehab unit, where they added speech therapy. She progressed and was discharged home within 30 days, despite an initial estimation of a 60-day stay. She beat all the odds.
Through aggressive therapy, she went from not using her arms at all to being able to feed herself, brush her hair and put on a shirt with assistance.
Her upper body progressed faster than her lower body. It took a long time to get Stephanie standing, after so much time without putting any weight on her feet, but she was able to walk with the aid of a walker by the time she left the hospital on March 12.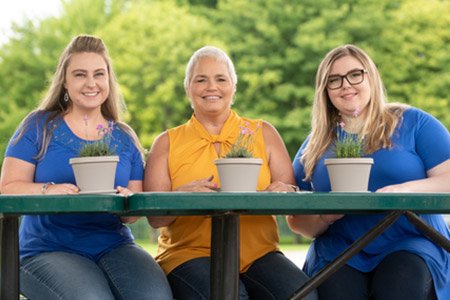 Stephanie and her two daughters are grateful for the care she received at Henry Ford Macomb Hospital. "Starting Early Rehab in the ICU was not only good for my mom's physical well-being, but also for her mental health," said daughter Brianna Glugla.
"The therapists were truly amazing with my mother and really encouraged her to push through the therapy to her full potential, even when she wanted to stop. My family and I cannot thank them enough and greatly appreciate what they have done. They were phenomenal and very patient with her," added daughter Ashley Commerson.
Stephanie's recovery journey impacted the whole rehab team. "It was a great pleasure for our entire team to be able to take care of her," said Izabela Malewicz, rehabilitation supervisor. "She became an inspiration for everyone."
Just two months after leaving the hospital, Stephanie was able to walk without a cane most of the time and continues to make improvements.
"I often reflect on my lengthy hospital stay and realize the importance of Rehab. I understand now why the team pushed me to work as hard as I did. I am so grateful for the entire team, medical staff and family who helped me get through this hard time and get me back on my feet," said Stephanie.