Silver Lining: Lynn Exceeded Weight Loss Goal During Stay at Home Order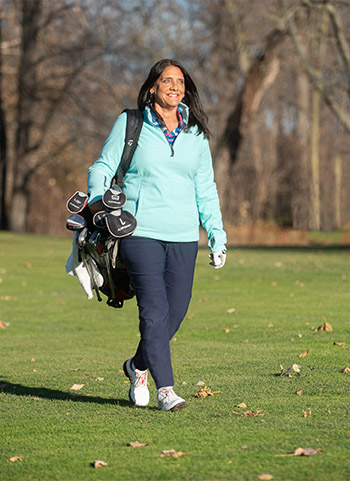 When Lynn Kaslly's daughter got engaged over the holidays in 2019, the family pulled out Lynn's 1987 wedding dress from storage for fun.
"It didn't come close to fitting me. I couldn't get the dress over my head or even my arms," said Lynn. "It was a huge reality check for me, and it was extremely depressing."
The upcoming wedding and an impending milestone birthday gave Lynn the extra motivation she needed to lose weight in a healthy but effective way.
"I wanted to shop in regular stores again for the cute and trendy clothes that don't come in my size. I also knew that I needed to make a healthy lifestyle change for my overall wellbeing," said Lynn.
Finding the right program
She started looking into her options. She called one place that promised she could lose 40 pounds in 40 days.
"It wasn't what I was looking for. I felt pressured to sign up and spend money. It was then that I started to really research, and I found the Henry Ford Center for Weight Management. I went for a free information session and felt comfortable enough to sign up the same day," said Lynn.
Lynn liked the plan's three different phases and the option to choose the one that fit her best. She started with the Healthy Solutions, which was convenient and allowed her to eat as much as she wanted, as long as the food was on her plan.
She was also very impressed with the instructors.
"These are nurses, dieticians and exercise physiologists - all experts in their fields. They're not just people who have lost weight telling you what worked for them," said Lynn.
Pandemic pause
Then COVID hit. As a dental hygienist, Lynn was off work while her office was shut down for three months during the Stay at Home Order. She used her extra time as an opportunity to focus on herself and her weight loss goal.
"I figured it could go either way, but I had no excuse to gain weight or say that I had nothing to do during the shutdown," Lynn said.
She met virtually with her Center for Weight Management coaches Tricia and Jackee every week, with a mid-week motivational phone call to help her stay on track. She also attended virtual group classes.
"We didn't always talk about weight loss. The group helped with behavior and moods too. Everyone was so concerned with everyone, and it was a huge support for me."
Exercise was a big part of losing the weight and keeping it off. She created a walking routine with her group of friends, and they've stuck with it.
"We walk (and talk) around Stony Creek, and on the Macomb Orchard Trail a few times a week. It has not only benefited our health, but also been great for our friendship."
Lynn also golfs, and now walks the course instead of renting a cart to get in some extra steps.
A change for the better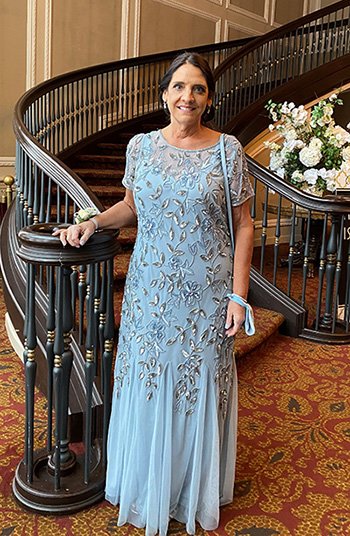 When she returned to work 40 pounds lighter, people were shocked to see her and told her how great she looked.
"It was such a dramatic change after not seeing my coworkers for three months. I came back to work with a ton of energy, confidence and a positive attitude. I just feel so much better in general."
Since she started, she has lost a total of 85 pounds and is still going.
"Before I started the program, I had just gone shopping and found the perfect dress for my daughter's wedding. By the time the stores reopened after the shutdown, I needed to find a new dress because the old one fell off me. I am now down 5 dress sizes," Lynn shared.
"The plan was easy to follow. I like the HMR shakes and plan to keep using them. My coaches Tricia and Jackee have become my friends. They helped me so much in this past year. I get emotional when I think about how much they have taught me and how they impacted my weight loss journey."
Lynn shared that she never could have imagined losing more than 80 pounds.
"My original goal was 40 pounds. I ended up getting addicted to physical activity, healthy eating habits and trying new recipes, so after I lost the first 40, I just kept going. It's become a new way of life for me. Every day, I am still getting compliments about how good I look. Little do people know, I not only look better, but I feel so much better overall. That has become my drive to keep going. I still just can't believe it, and I am so thankful for this journey."