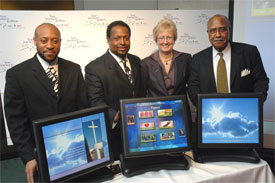 Research has shown that access to health information and care is a great challenge for under-served populations in the United States; unfortunately, these same populations often have a greater risk of preventable health care conditions. Race, ethnicity, socio-economic status, and geography are important barriers to health care which are difficult to overcome with traditional strategies. Faith based organizations have made strides in providing health information, screening and basic resources which are readily accepted by the community in which they serve.
The Henry Ford Health Department of Surgery, through a collaborative effort by the hospital's doctors, Health Alliance Plan (HAP) and local pastors created the Faith Based Initiative Health Kiosk. It is a state-of-the-art, interactive diagnostic tool that provides a unique resource to the local churches to improve health care literacy. This faith based medical kiosk empowers the users by providing evidence based information on health promotion and diabetes, hypertension, heart disease, HIV/AIDS, obesity health related disease prevention through a multidisciplinary approach and caring for elderly parents. The kiosk contains additional information on other epidemiologically relevant health conditions which occur in these underserved communities.
The faith based health kiosk is user friendly and designed to assess the current physical condition and guide future health needs for the defined user population using a touch screen monitor. Human factors analysis and user acceptance are optimized by the rich, local media content. The user is given a personalized overview of their status and the system provides nationally recognized recommendations to maintain and improve their current health including healthy life style suggestions and potential health risks which require attention. The information provides detail guidelines for the next steps to be taken to avoid disabling or life ending illness including available community resources.
Improved basic health care literacy is an achievable goal which will improve the health of at risk, underserved populations. The faith based kiosk provides an evidenced based, configurable, and scalable solution which can enhance community organizations efforts to improve health care in their populations. It combines science and spirituality as people learn about their health.
Although Henry Ford Health does not have historical ties to a particular religion, we want to make one message clear: Just because the hospital heritage is not faith-based does not imply absence of faith. The faith based medical kiosk communicates a continuous message of care, concern and commitment.
For further information about the Faith Based Kiosk, please contact Wilma J. Ruffin at (313) 916-7506 or email at wruffin1@hfhs.org