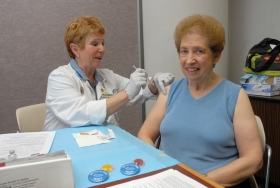 Each year, influenza, better known as the flu, impacts 5% to 20% of the U.S. adult population, with more than 200,000 people hospitalized from flu complications. And, according to the Centers for Disease Control and Prevention (CDC), 17 million workdays are lost annually due to influenza-related illness.
The CDC recommends that employers implement control measures, including but not limited to, influenza vaccination programs and hand hygiene education. Employees receiving annual vaccinations are likely to take fewer sick days, less time off for doctor visits, and experience fewer days with flu-like symptoms and illness. They are also less likely to spread the flu, reducing losses in productivity, benefit costs, and staffing shortages.
Schedule an onsite Flu Shot Clinic
Our nurses will travel to your site and provide your employees with their annual flu vaccine. Our team works closely with your Human Resources and/or Employee Health department to make our immunization program convenient for both you and your employees. Don't wait – schedule your organization's flu shot clinic today!