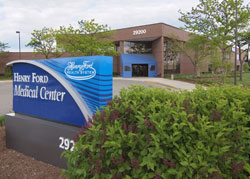 Henry Ford Health has twenty-five Henry Ford Medical Centers throughout southeastern and central Michigan, and many additional care sites associated with its System hospitals. Between them they offer a wide variety of options for nursing employment and career growth.
Areas include:
Primary Care
Medical Specialties
Surgical Specialties
Emergency Department
Urgent Care Centers
Ambulatory Surgery
Nurses in Ambulatory Care apply the nursing process through assessment of patients in person or by telephone, and provide patient and family education regarding disease process, procedures, tests and medications. They also implement nurse-driven protocols through a variety of care modalities including intravenous and medication therapy, light therapy, chemotherapy, emergency care and other acute care modalities.
Nurses often participate in health fairs and screenings to promote health and maintain wellness of patients in both the clinic setting and in the local community. Speakers Bureau participation provides another opportunity for nurses to promote Ambulatory Care Nursing and increase health care awareness.
Henry Ford Health also has several nurse-managed clinics which provide case management for specific patient populations including anti-coagulation, diabetes, congestive heart failure, coronary artery disease and depression.