Research programs in the Division of Cardiovascular Medicine are among the most robust in the Health System and including more than 140 active clinical, translational and basic research projects. This work is funded by an equally wide breadth of resources including the National Institutes of health, pharmaceutical and device industry, philanthropy and other sources. Our clinicians and researchers are highly visible, routinely presenting at regional, national, and international society meetings and produced more than 240 manuscripts and abstracts in 2019.
Highlights of the cardiovascular research program include:
National Heart, Lung and Blood Institute-funded research
The Division is home to several investigators with long track records of NIH funding ranging from mechanistic studies in model systems to translational science in humans, and even including cutting edge clinical trials.
Improving attendance to cardiac rehabilitation trial (iATTEND, Principal Investigator: Steven Keteyian Ph.D.)
Impact of race and genetic factors on beta-blocker effectiveness in heart failure (Principal Investigator: David E. Lanfear, M.D. M.S.)
Cardiac energy metabolism in heart failure (Principal Investigator: Hani Sabbah, Ph.D.)
Plasma Metabolomics and Myocardial Energetics in Heart Failure (Principal Investigators: David E. Lanfear, M.D., M.S. and Hani Sabbah PhD)
Racial Disparity in Heart Failure Clinical Outcomes and Angiotensin system blockade (Principal Investigator: Jasmine Luzum, Ph.D. Pharm.D.)
GRAHF-2: Genomic Analysis of Enhanced Response to Heart Failure Therapy in African Americans (enrolling site)
Improving attendance to cardiac rehabilitation trial (iATTEND, Principal Investigator: Steven Keteyian Ph.D.)
The Cardiovascular Research Laboratory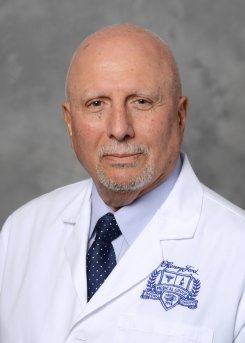 The Division's Cardiovascular Research Laboratory (CRL), Directed by Dr. Hani N. Sabbah, PhD, conducts research into the causes and novel treatments of heart failure. With a focus on basic and translational research, investigators are concerned with understanding the mechanisms leading to progression of heart failure, ventricular remodeling, and reversing this process using drugs and devices. Ongoing research explores energy production in the failing heart, signaling mechanisms that foster dysfunction of cardiac muscle cells, ion channels and arrhythmias. Beyond molecular biology and biochemistry, the CRL performs pre-clinical testing in model systems to develop and test novel drugs and devices for heart failure.
Clinical Trials
The Cardiovascular Division carries out an amazing array of active clinical trial work across the spectrum of Cardiology. The Division maintains central infrastructure and oversight for clinical trials operations along with functional trial groups that operate within each of the sections.
Advanced Heart Failure Section Clinical Trials

Structural Heart Disease Clinical Trials

Preventive Cardiology Unit Clinical Trials

Electrophysiology Section Clinical Trials

Cardiac Catheterization Laboratory Clinical Trials
Clinical Registries
The Cardiovascular Division maintains a large number of observational registries and cohort studies in order to continuously learn from the division's extensive and innovative clinical activities.
FIT-CPX- The Henry Ford Hospital Cardiopulmonary Exercise Testing Project
Henry Ford STEMI Registry
Henry Ford Genomic Registry
Henry Ford SPECT Registry
Henry Ford Coronary CTA database
Advanced cardiac imaging consortium Michigan CTA database
Henry Ford Cardiac MRI database
HF-Action- Exercise training in Heart Failure
Multicenter cardiac sarcoidosis registry
Retrospective HF and MI databases utilizing Corporate Data Store
National Cardiovascular Data Registry
Blue Cross Blue Shield of Michigan BMC2-PCI Registry - Percutaneous coronary intervention registry
STS/ACC TVT Registry - Transcatheter valve replacement and repair procedures
ACC LAAO Registry- covers Left Atrial Appendage Closure
TOPAS-TAVI- Transcatheter Aortic Valve Implantation in Patients with Low-Flow, Low Gradient Aortic Stenosis (Truly or Pseudo Severe Aortic Valve Stenosis). A Prospective Multicenter Registry.
PROGRESS CTO REGISTRY- Multi center Registry of Chronic total Occlusion Interventions
EAGLE Registry- Close Chested Epicardial Ligation of the Left Atrial Appendage in Atrial Fibrillation Patients Registry: A Multicenter Prospective Observational Cohort
IRAD registry - aortic dissection registry
Michigan Anticoagulation Quality Improvement Initiative
TRIUMPH registry- Translational Research Investigating Underlying Disparities in Acute Myocardial Infarction Patient's Health Status Registry
THEME Registry- enrolling patients who receive TandemLife devices
USPella Registry- enrolling patients who receive Impella devices
MITRAL Registry- mitral valve in valve, valve in ring, valve in MAC registry for transcatheter mitral valve implantation using Sapien valves in the mitral position
POMME-Registry
Amplatzer PFO Closure: Post-approval registry for Amplatzer PFO devices
NCDR: TVT and LAA-O in Structural heart
CVAD registry- Shock and Impella
INTERMACS- InterAgency Registry of Assisted Circ Support
IMACS: ISHLT Mechanically Assisted Circulatory Support Registry
MCSRN: Mechanical Circulatory Support Research Network
Preventive Cardiology Outcomes (PRECO) database
OPTIMUM Trial: Outcomes of Percutaneous Revascularization for Management of Surgically Ineligible Patients with Multivessel of Left Main Coronary Artery Disease: A Prospective Registry.
US Caval Valve Registry
Michigan TAVR Registry