Competency model
The program is self-directed with no time-based formal rotations. It's competency development model is grounded in the Henry Ford Health Leadership Competency Model which is used to create the framework for the Outcomes, Goals, and Objectives that the fellows' Learning Experiences and Learning Activities are centered around. The program emphasizes competency development in the domains of customer-centricity, commitment to high reliability, innovation, collaboration, data-based decision making, change management, and more.
Learning experiences
As part of the Fellowship Plan, the fellow and preceptor craft a learning experience (a collection of activities – such as a project with deliverables, committee leadership, work group, focused shadowing experience) that will provide sufficient exposure and education to various types of learning experiences (such as inpatient operations, retail operations, marketing, population health management, etc.). The preceptor and fellow also collaborate to determine which development outcomes and goals in the leadership competency model they anticipate will be targeted in each learning experience. At the conclusion of the learning experience, the preceptor or designated mentor evaluates the fellow using the targeted outcomes and goals as the evaluation criteria.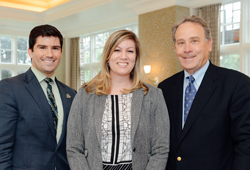 Structured feedback
The program's assessment strategy ensures that fellows, preceptors, and program leaders receive and give constructive, structured feedback at key points throughout the year to continuously improve performance.
Leadership exposure
Bi-monthly meetings with Robert Riney, President and Chief Executive Officer
Monthly meetings with Dr. Adnan Munkarah, Office of Care Delivery System and CCO, Henry Ford Health
Monthly meetings with Nina Ramsey, Executive Vice President and Chief Human Resources Officer, Henry Ford Health
Monthly meetings with Dr. Kimberlydawn Wisdom, Senior Vice President of Community Health & Equity and Chief Wellness & Diversity Officer
Professional development opportunities
Henry Ford Strong Start
Henry Ford University courses
StrengthFinders Assessment
Stipend for continued professional education, such as:

LEAN/Six-Sigma Green Belt Certification
Professional Conferences
Professional Workshops
Subscriptions