Orthopedic Resident Clinical Rotations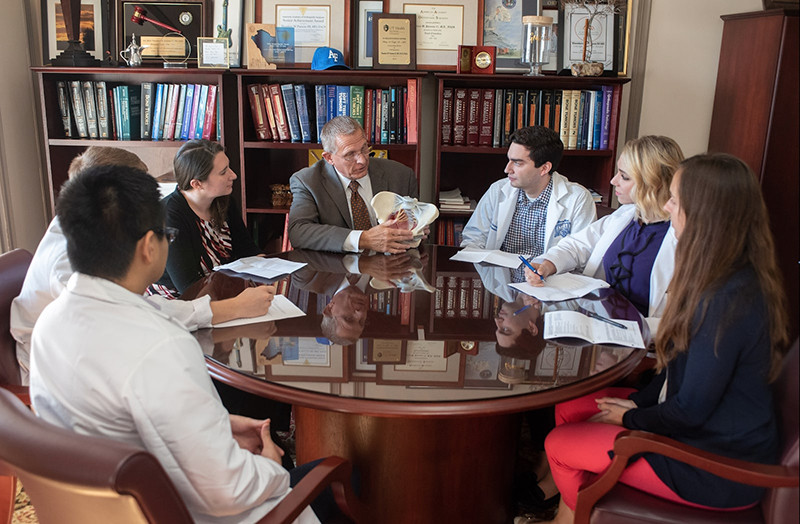 The first year affords the residents the opportunity to develop a broad foundation in patient care, orthopaedic knowledge and surgical skills that will be built upon throughout residency. Beginning in July of 2013, the Orthopaedic Surgery residency PGY-1 year was restructured to include six months of orthopaedic surgery in order to give residents earlier exposure to the basic principles of orthopaedics patient care as well as foster an earlier engagement with the Orthopaedic Surgery faculty and residents.
A formal SURGICAL SKILLS CURRICULUM is integrated into the didactic schedule throughout the entire year with hands-on skills labs including suturing, casting and splinting, arthroscopy, saw-bones, cadaveric dissection, and many others. Our program has preferred this approach, as opposed to a single month-long rotation, to allow for continuous improvement throughout the year and to foster teaching and camaraderie between classes.
Residents spend 2 months on ORTHOPAEDIC TRAUMA. Here, the residents are introduced to basic fracture care in the ED – fracture reduction, splint application, wound management, etc. In addition, they gain experience managing high acuity patients admitted to the hospital both on the orthopaedic floor and in the ICU. Residents also gain early experience in the operating room covering cases while they are in house on call.
While on the ORTHOPAEDIC ADULT RECONSTRUCTION AND SPINE service, residents gain early operative experience with joint arthroplasty. Residents get exposure to nonoperative management of arthritic conditions, including arthrocentesis, in the outpatient clinic in addition to ample early, one-on-one operative experience with total joint replacement. Additionally, residents get an early experience in the evaluation, and treatment of a wide variety of spine conditions from trauma to degenerative conditions to tumors.
The ORTHOPAEDIC SPORTS MEDICINE rotation gives PGY-1 residents early exposure to early arthroscopy experience as well as spending time in clinic to learn physical exam skills.
PGY-1 resident have two rotations in PLASTIC SURGERY working at Henry Ford Hospital and at Henry Ford West Bloomfield Hospital. These rotations give residents a broad background in soft tissue handling, wound management and soft tissue coverage procedures.
PGY-1 residents spend two months working in the SURGICAL INTENSIVE CARE UNIT to gain knowledge and skills in the area of critical care.
The VASCULAR SURGERY rotation gives resident the opportunity to hone their skills in evaluation and management of vascular disorders. In addition, residents benefit from a variety of surgical cases including amputations.
MUSCULOSKELETAL RADIOLOGY gives residents experience reading basic radiographs in addition to reading advanced imaging studies like MRI, CT, ultrasound, and nuclear medicine studies.
The junior resident curriculum is designed to give our residents a basic understanding of general orthopaedic principles and techniques by rotations in each of the major subspecialties within orthopaedics.
Junior residents spend three rotations on the ORTHOPAEDIC TRAUMA service where they learn the basics of fracture care. Residents work together on this team-based rotation to care for pathology ranging from simple nonoperative fractures to complex polytrauma patients with complex injuries at Henry Ford Hospital, an ACS Level I Trauma Center. The junior residents on the trauma service take in-house call while fielding all new consults from the ED and from other inpatient services. Here, residents hone their skills in fracture reduction, traction pin insertion, arthrocentesis, and other manual techniques. In addition, residents spend time in the operating room learning operative fracture care.
Residents on the ADULT RECONSTRUCTION service work one on one with an attending in this mentorship rotation. This service is dedicated entirely to learning the basic principles of joint arthroplasty. In addition, working in the outpatient clinic, residents learn nonoperative management of multiple arthritic conditions, including injection techniques.
The SPORTS MEDICINE service pairs residents with attendings in a one on one mentorship model. There, they will gain exposure to a variety of conditions and treatment modalities. Residents have the opportunity to work with our arthroscopy simulator to gain agility and three-dimensional spatial reasoning before moving on to live arthroscopy in the operating room. Residents also have the opportunity to assist in coverage of local sports teams.
The PEDIATRIC ORTHOPAEDICS (BEAUMONT) rotation during the PGY-2 year gives residents exposure to a busy community pediatric orthopaedic practice with a variety of congenital, developmental and traumatic pathology. In addition, the residents get some early exposure to hip preservation in the young adult.
The PEDIATRIC ORTHOPAEDICS (GILLETTE) rotation in the PGY-3 year allows residents to build upon their foundation in pediatric orthopaedics at a world-renowned tertiary care center for pediatrics. Few residents across the country are exposed to the breadth and depth of pathology in pediatric orthopaedics that our residents are immersed in at Gillette. This is frequently rated as our residents' favorite rotation.
The SPINE SURGERY (HFH) allows PGY-3 residents to build upon their experience utilizing the latest techniques and instruments. Faculty at HFH are deeply invested in new technologies and techniques, and the residents benefit from participating in this research if interested but also from working with faculty on the cutting edge in the field of spine surgery.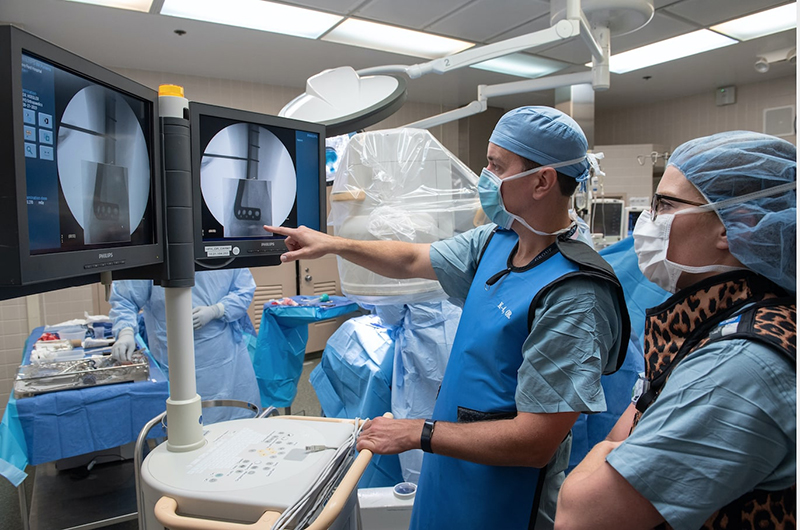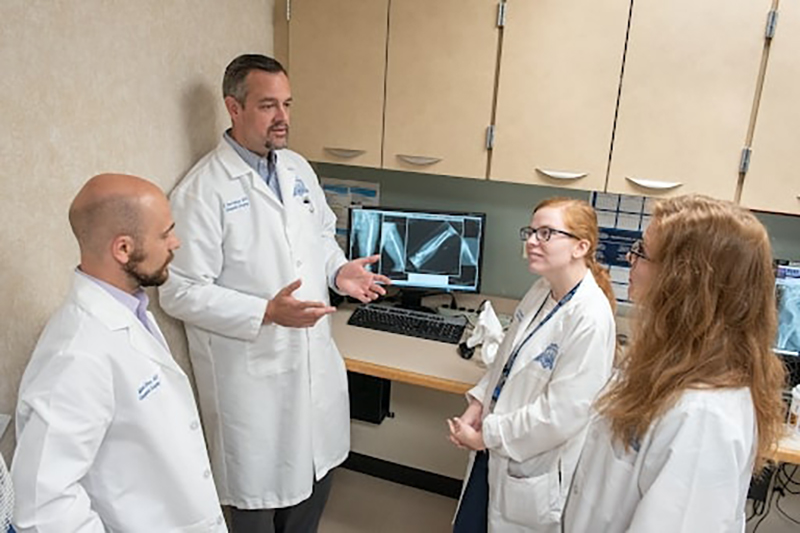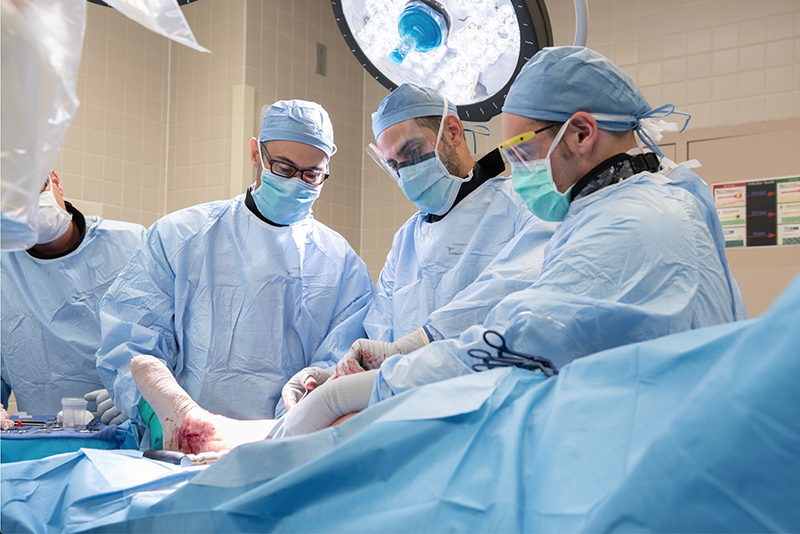 The PGY-2 rotation in HAND SURGERY gives residents early exposure to this popular subspecialty in a variety of settings. Residents gain knowledge and skills in hand surgery working in outpatient clinics, in the operating room and through shared coverage of hand call at Henry Ford Hospital.
The FOOT AND ANKLE service gives the resident a chance to care for a variety of conditions including degenerative conditions, traumatic injuries, inflammatory conditions, and sequelae of diabetes.
The RESEARCH rotation allows the residents to have dedicated time for completion of their research projects. Residents participate in research throughout their residency, but this rotation allows residents to focus solely on their project and to complete the majority of the "leg work" for a project within this time.
The Senior Resident curriculum is designed to revisit each of the subspecialties that the resident has rotated through during the junior years, but with a more advanced focus and greater autonomy in the operating room.
The SPORTS MEDICINE rotations focus on building autonomy in the operating room, particularly with arthroscopy. Residents will rotate one on one with an attending in a mentorship model.
The PEDIATRIC ORTHOPAEDICS (MINNESOTA CHILDREN'S) rotation gives residents a high volume experience in general pediatric orthopaedic surgery, particularly in trauma. Residents cover call at Minnesota Children's Hospital, a Pediatric Level I Trauma Center. This has been a great success so far and we look for this to continue to be one of our strongest rotations.
The ADULT RECONSTRUCTION rotations during the senior years look to build upon the previous foundation in arthroplasty, focusing on operative autonomy and on performing more advanced primary and revision procedures.
The ORTHOPAEDIC ONCOLOGY rotation gives the resident an outstanding experience with musculoskeletal tumors, working with our oncology surgeon. This is an experience that few programs can compete with.
The senior residents on ORTHOPAEDIC TRAUMA work together to manage the team-based service, caring for all orthopaedic trauma patients at our Level I Trauma Center. They are responsible for patient care and for education of the junior residents on service. In the operating room, the residents are expected to operate with greater autonomy and to handle more complex procedures. As with many other rotations, there are no fellows, so the senior residents are actively involved in complex procedures including pelvic and acetabular fractures, periarticular fractures and malunion / nonunion reconstructions.
HAND SURGERY rotations give the residents ample opportunity to build upon their previous experiences while covering Level I trauma, managing complex tertiary referrals and gaining comfort with community hand cases.
The senior FOOT AND ANKLE rotation gives the resident further experience in the field, concentrating on more advanced reconstructions and focusing on more operative autonomy.
The TRAUMA / FLOAT rotation is the newest addition to our curriculum. This rotation allows the senior resident to have a purely operative experience. The resident is able to fill in any deficiencies in his or her last year and to assist with coverage when a specific service has a busy operative case load.