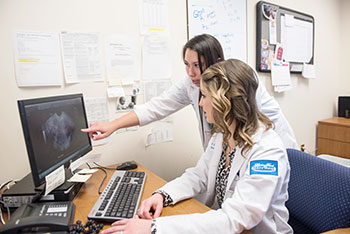 Inpatient clinical training
Henry Ford Macomb Hospital
15855 Nineteen Mile Road
Clinton Township, MI 48038
(586) 263-2972 Office
(586) 263-2975 Fax
Obstetrics and Gynecology Services. At HFMH, hospital-employed and private physicians provide supervision and training of the residents. Inpatient, residents are responsible for all major aspects of patient care and work one-on-one with the attending faculty physician in the provision of care. Faculty physicians on all inpatient rotations give increasing autonomy to residents as they gain competence during the course of their training, helping to bolster and support resident decision-making skills. Residents are involved in all obstetric and gynecologic care within the hospital, as well as inpatient OBGYN subspecialty care. Residents are also integral members of the education team and are involved in teaching medical students on all inpatient services. Epic EMR is used for charting inpatient.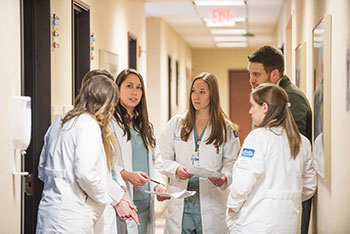 On the obstetric service, residents are involved in formulating patient management plans, participating in all aspects of labor, and performing vaginal deliveries and cesarean sections with supervision. Our attending physicians are proficient in both forceps-assisted and vacuum-assisted operative deliveries, and our residents receive training in both. In-house faculty perform daily rounds and review written notes, assessments, and patient management plans. Academic teaching occurs during these rounds. While on the gynecology service, residents participate in all gynecologic surgeries in the hospital. Residents begin with simple procedures and progress to more complex surgeries throughout their training. Attending physicians work one-on-one with residents to tailor training to each residents' specific strengths and opportunities for learning. Residents are also responsible for performing consults in the hospital and collaborate with attending physicians to formulate treatment plans.
Subspecialty Services. Subspecialty rotations are provided where the best educational experiences can be endowed. These are fulfilled at our own hospital as well as several local hospitals in Metro Detroit and in private doctors' offices, particularly for those subspecialties that are primarily outpatient in nature.
Our residents receive subspecialty training in neonatology, genetics, maternal fetal medicine, urogynecology, reproductive endocrinology, and gynecology oncology.
Our first-year residents spend a month at Henry Ford Hospital, in Downtown Detroit, for Neonatal Intensive Care alongside multiple board-certified neonatologists. Our first-year residents also spend a month at Henry Ford Main Hospital, our tertiary care affiliate located in Downtown Detroit, for a Surgical Intensive Care Unit rotation. During these intensive rotations, our residents learn vital patient care management. In addition to the core rotations of obstetrics and gynecology, first-year residents also rotate with emergency medicine and internal medicine. These rotations provide comprehensive training in the first year of residency.
As second years, our residents have a dedicated month-long genetics rotation. On this rotation, the residents work directly with genetic counselors and geneticists counseling both prenatal and gynecologic oncology patients. During this rotation residents are also exposed to invasive testing such as CVS and amniocentesis.
In the third year our residents spend a month at Henry Ford Main Hospital, our tertiary care affiliate located in Midtown Detroit, for a maternal fetal medicine rotation. During this rotation, we are part of the Henry Ford MFM service and work closely with the MFM physicians in seeing high risk obstetric patients both in- and outpatient. In addition, all of our residents run our weekly maternal fetal medicine clinic at Macomb where they perform prenatal consultations alongside board-certified maternal fetal medicine physicians throughout the course of their residency training. This provides continued training in management of high-risk pregnancies.
Our third-year residents also spend a month dedicated to urogynecology both in the office setting as well as performing urogynecologic procedures in the operating room with Dr. Ali Luck, a board-certified urogynecologist working out of Henry Ford West Bloomfield and Henry Ford Macomb Hospital. In addition, our residents participate in urogynecologic procedures such as slings, vaginal vault repairs, and vaginal hysterectomies throughout their residency while on the gynecology service.
Additionally, our third-year residents spend a month participating in a Family Planning Rotation at Scotsdale Women's Center in Detroit. Residents that do not wish to participate in this rotation have the ability to opt out and participate in an elective rotation of their choosing.
Our fourth-year residents spend a month with Dr. Ahmad Hammoud, a board-certified reproductive endocrinologist, at a local reproductive endocrinology clinic, IVF Michigan. During this month they participate in performing pelvic ultrasounds, counseling patients, and assisting with IVF and IUI procedures. Throughout residency, all residents receive valuable lectures from Dr. Hammoud for continued training in reproductive endocrinology and infertility.
Our fourth-year residents also spend a month with renowned Gynecological Oncologist Dr. Douglas Pugmire out of Ascension Rochester Hills performing GYN Oncology procedures. Additionally, residents participate in gynecology oncology surgical cases and consultations alongside Dr. Rabbie Hanna at Henry Ford Macomb Hospital throughout their residency training.
Simulation Training. Henry Ford Macomb hospital has a simulation lab with laparoscopic training modules easily accessible to residents. Henry Ford Hospital also provides formal training to residents with an institutional curriculum covering such subjects as delivering bad news, informed consent, disclosing error and appropriate hand-off communication. All interns also participate in the Fundamentals of Critical Care Support course. All residents complete the Fundamentals of Laparoscopic Surgery Course during their training.
Our residents are required to participate in a DaVinci robotic training program. Our hospital features both the Si and Xi DaVinci robot models for use in the Operating Room. The robotic training incorporates online modules as well as simulation modules on the robotic trainer. As residents progress through training, they have increased responsibility in robotic procedures and will be certified in robotic surgery upon completion of residency.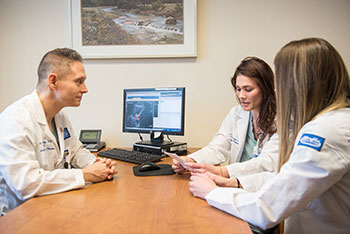 Ambulatory continuity training site
Henry Ford Macomb Hospital
Macomb OBGYN Resident Clinic
16151 19 Mile Rd. Suite 300
Clinton Township, MI 48038
(586) 203-1770 Office
(586) 228-2672 Fax
Henry Ford Macomb OBGYN Resident Clinic is an ambulatory continuity-training clinic serving both obstetric and gynecologic patients. All residents participate in clinic for an average of one, half day per week which varies depending on their particular scheduled rotation. Residents have autonomy in seeing patients, while at the same time having the support of core faculty members. The clinic has a state-of-the-art ultrasound machine which residents are trained to use for routine prenatal dating scans, fetal anatomy scans, and other gynecologic ultrasounds. Our residency clinic is also partnered with Hopeful Hearts through Sacred Heart Rehabilitation Center to provide prenatal care for participants which provides a unique experience with exposure to patients undergoing treatment for various addiction. Epic EMR is used in our outpatient clinic and inpatient in the hospital.
Clinic Hours:
Monday and Wednesday 8:30am-12pm
Tuesday, Thursday, and Friday 1-5pm
Clinical Faculty:
Kurt Ludwig, DO
Nicole Dolan, DO
Stephen Redding MD
Megan Weatherhead, DO
Resident Fetal Anatomy Ultrasound Clinic
Residents have the opportunity to perform detailed fetal anatomy ultrasounds monthly in the resident clinic alongside Dr. Redding. On Labor and Delivery, our residents perform bedside ultrasounds on all patients and are proficient with fetal biometry, AFI, BPP.
Maternal Fetal Medicine Clinic
MFM Clinic is located in the same office as the resident clinic. All available residents participate in MFM clinic on Tuesday mornings. During this clinic, a board-certified maternal fetal medicine specialist supervises consultations for high-risk obstetric patients. The residents participate in formulating care plans for these high-risk patients and follow up with patients as needed. Residents also participate in adjusting insulin dosing alongside the maternal fetal medicine physicians for patients with diabetes.
MFM Clinic Hours:
MFM Clinical Faculty:
Gregory Goyert, MD
Majid Shaman, MD