Fighting Prostate Cancer From Every Angle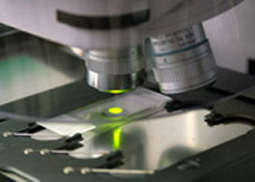 PHS prostate cancer research highlights the emerging field of molecular environmental pathological epidemiology which is a combination of epidemiology, environmental science and pathology. Investigators have ongoing NIH and Department of Defense (DoD) funding to study a variety of changes measured directly in prostate tissue that lead to the development and progression of prostate cancer.
The research of Benjamin Rybicki, PhD is focused on earliest stages of prostate carcinogenesis that involves subtle changes to the DNA molecule and transition from a tumor protective to a tumor promotive inflammatory environment. In pre-malignant prostate biospecimens, Dr. Rybicki's team, working closely with the Department of Pathology and national collaborators, are measuring environmental exposures of compounds that bind to DNA molecules, DNA adducts, as prostate cancer biomarkers that increase risk of disease susceptibility and/or progression. Inflammatory biomarkers are also being measured in pre-malignant prostate tissue to better quantify on a molecular level the key indicators of an inflammatory response that promotes prostate carcinogenesis. In an NIEHS funded R21, Christine Neslund-Dudas, PhD is studying metal levels in prostate cancer and adjacent normal tissue to better understand the role of cadmium and the androgen receptor in prostate cancer progression and in race disparities in the disease.
Through DoD funding, Albert Levin, PhD is studying both tumor DNA copy number and methylation alteration profiling to identify biomarkers associated with biochemically recurrent disease in African Americans. These projects are leading to new insights regarding the differences and similarities in prostate cancer in African American and white men.