Pet Therapy Volunteer Program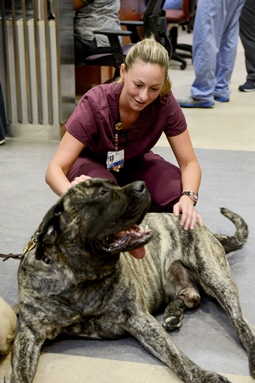 Stress and anxiety melt from people's faces when they see these friendly and furry friends from the pet therapy volunteer program here at Henry Ford Macomb Hospital. These four-legged volunteers spread joy throughout the hospital to patients, family and staff, primarily assisting the Emergency Department, physical rehab and the nursing units. The program started at Henry Ford Macomb Hospital in 2005 with just one dog. Now the program is made up of over 10 lovable pets and their owners who volunteer a few hours per week, attracting attention wherever they go.
To be involved, the dogs must be registered or certified therapy dogs and the owners are required to undergo the regular volunteer training process. All certified and registered therapy dogs are well-trained, good natured and enjoy attention.
The volunteer pet therapy program greatly contributes to the emotional and physical healing process. Pet therapy is proven to:
Decrease blood pressure
Ease pain or anxiety
Encourage social interaction
Decrease stress
Encourage stroke or traumatic brain injury patients to use their hands, take a walk and even speak
Improve an individual's overall psychosocial sense of well-being.
Learn more about the volunteering opportunities available at Henry Ford Macomb Hospitals.