Yoga at Henry Ford West Bloomfield Hospital
Benefits of Yoga
Yoga is an ancient integrative practice that can assist your body through the natural healing process. Unify your mind and body through the use of yoga postures, breath work, and meditation to help heal from chronic conditions and re-balance naturally. Yoga can help to lower blood pressure, slow down heart rate, decrease the production of the stress hormone cortisol and release feel-good chemicals in the brain, such as serotonin.
Yoga therapy at Henry Ford West Bloomfield Hospital is designed to meet the needs of the individual through a tailored approach to the practice. Our certified yoga therapist focuses on empowering individuals to move toward improved health and well-being through the application and teaching of yoga.
Yoga is a great practice for everybody, regardless of age, fitness level or health status. However, a variety of conditions can be addressed using yoga as a complement to traditional medicine, including:
Chronic pain
Sleep disorders
Stress, anxiety, depression
Hypertension
Practicing yoga regularly can provide the following therapeutic results:
Pain relief
Enhanced sleep
Stress relief
Improved balance
Improved immune system function
Increased flexibility, strength and mobility
Improved focus
Increased bone density
Yoga Classes
Sign up for an upcoming yoga class at Henry Ford West Bloomfield Hospital.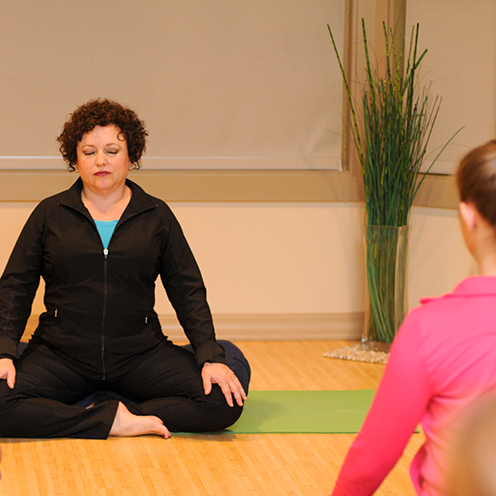 Experience Yoga
Watch some yoga poses that can help improve your mind, body and overall fitness.