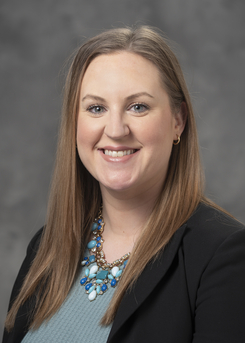 Erin M Randolph, MSW
Specialties: Behavioral Health Therapist
Board Certification and Education
Education
Wayne State University, Social Work, MI, 2014
About Me
Biographical Statement
Erin Randolph is a licensed clinical social worker with experience in adult and child mental health in a variety of settings, including emergency care, inpatient psychiatric care and outpatient behavioral health. She has advanced training in Cognitive Behavioral Therapy and utilizes a person-centered, strengths-based approach to meet the unique needs of each patient.
Erin acknowledges the uniqueness and individuality of every patient, and understands therapy is not a one-size-fits-all experience. She is passionate about providing her patients with a safe, nonjudgmental space to discuss, process, heal and grow.
Erin currently provides virtual individual behavioral health treatment to adults in Henry Ford's Behavioral Health Integration program. She earned her Master of Social Work from Wayne State University in 2014.
Care Philosophy
"I believe asking for help is a sign of strength. My goal is to provide every individual I have the pleasure of working with an opportunity to see and appreciate their own inner strengths and abilities."