Therapy for children 18 months to 17 years old
Applied Behavior Analysis (ABA) and other services are provided at the Henry Ford Medical Center in Grosse Pointe Farms. Our experienced staff teach children diagnosed with autism spectrum disorder, or other developmental disabilities, the skills needed to succeed at home, school, and the community, and to promote positive social interactions. Our services include:
Extended individual therapy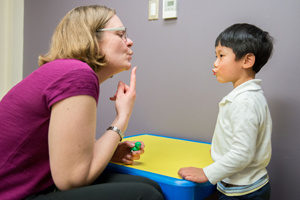 For children who might benefit from additional one-on-one therapy, individual treatment sessions are offered in three-hour blocks, Monday through Friday in the morning or afternoon. Treatment sessions consist of:
Skills assessment
Behavior plan (if needed)
Support of a behavior technician
Caregiver training
Ongoing supervision by a BCBA
Half of the time is spent in groups such as circle time, music, art and games. The remaining time is spent in one-on-one therapy. This format teaches children the skills needed to perform and succeed socially in both school and daily life.
Caregiver training
Parents of a child with autism or another developmental disability are invited to schedule one-hour, weekly parent training appointments that are conducted by a Henry Ford board certified behavior analyst. The goal of training is to teach parents how to apply the skills they learn using the same methods used by the staff at the Henry Ford Center for Autism and Developmental Disabilities (CADD).
Social skills groups
In the social skills group, an applied behavior analyst leads the group through different activities that allow children to interact with peers to practice social skills. Each child first undergoes a brief social skill assessment to identify specific skills to work on in the group. Groups meet once a week for a one-hour therapy session.
Pediatric psychiatry services
Pediatric medication clinics are available at Henry Ford CADD sites. If psychiatry services are needed, we work with our pediatric psychiatrist to best address your child's individual needs.
Speech-language pathology
Speech-language therapy is available at all CADD locations.