Are You Eligible for Virtual Prenatal Care?
Currently, our Virtual Prenatal program is available to patients who receive care from a Henry Ford Medical Group Ob/Gyn or Certified Nurse Midwife and are planning to deliver at Henry Ford Hospital or Henry Ford West Bloomfield Hospital.
This service is best for women who have low-risk pregnancies, meaning you and your baby are healthy and developing normally and have a lower chance of having problems during pregnancy or birth. To be eligible for virtual prenatal care, you must:
Start prenatal care in the first trimester of your pregnancy
Be healthy now and have no medical problems
Have a healthy baby that is growing normally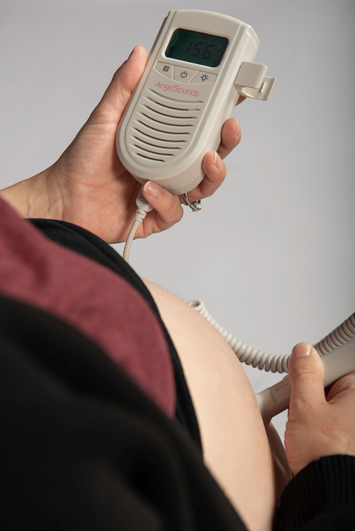 What equipment do I need?
Once your doctor or midwife agrees your a candidate for Virtual Prenatal Care, you'll need to have the following:
Blood pressure cuff: Available at most drug stores and online, a home blood pressure cuff simply helps the doctor monitor your blood pressure levels remotely.

Fetal doppler: You can purchase this item online, or you may be able to borrow one from family or friends. Your provider will instruct you how to position this heart rate monitor so that you both can listen to baby's heart tones in real time.

Bathroom scale: Frequent weigh-ins are important to make sure you are gaining a healthy amount of weight during your pregnancy.

Smartphone, tablet or computer with a video camera and microphone Internet connection and browser such as Internet Explorer or Google Chrome (Safari and Microsoft Edge do NOT work with our videoconferencing interface)

A Henry Ford MyChart account. Also, you must have downloaded the MyChart App if you plan to use a tablet or smartphone for your virtual visits.
How does virtual prenatal care work?
During your pregnancy, provided you meet the criteria for this program, your prenatal visits will alternate between in-person office visits and virtual visits. Using your smartphone, computer or tablet's camera and microphone, you will sign into MyChart and connect to a private videoconference with one of our Certified Nurse Midwives to have your prenatal checkup appointment.
What happens during a virtual visit?
Before your scheduled virtual appointment time, you will have taken your own blood pressure and weight, and will share these with the midwife during your visit. Also during your virtual visit, you and the midwife will listen to your baby's heart beat together, and you can ask any questions you may have. The midwife will provide information about your health and your growing baby.
Are virtual visits covered by insurance?
Most insurances cover these visits. Patient copay, co-insurance and deductible still apply. Patient is responsible to check with their specific insurance plan to determine if visit is covered. At this time video visits are not covered by Medicaid. The visits are generally eligible for Health Spending Accounts (HSA) and Flexible Spending Accounts (FSA) as a qualified medical expense.
How do I sign up?
If you're interested in learning more about Virtual Prenatal Care, ask your provider at your initial, in-office OB visit if the program is a good choice for you. If it's determined you meet the criteria, more detailed information will be provided, including step-by-step instructions for conducting your virtual visit, as well as proper use of the prenatal monitoring equipment you will use.
Make an appointment
with a Henry Ford doctor or midwife or contact us using one of the numbers below: