Tamika's Story: From Shoulder Pain to a Breast Cancer Diagnosis
Tamika Parker knew she was doing the right thing by having regular mammograms. But when shoulder pain from a rotator cuff injury sent her to the doctor, it was an MRI for her shoulder that showed an eight-centimeter mass on a lymph node near her breast.
That's when Tamika remembered watching a TV news story a month earlier. The woman in the story talked about the excellent care she received at the Henry Ford Cancer Institute. So, Tamika made the call.
A second mammogram at Henry Ford still didn't show the mass, but an ultrasound and breast MRI did. The biopsy indicated she had stage 3 breast cancer.
"I found they really do take good care of you," says Tamika. During the 12 weeks of chemotherapy, she had a couple meltdowns. "Not one person even remotely made me feel like they were frustrated or tired of me," says Tamika, a 49-year-old Detroit resident and former cleaning company employee who is disabled by back injuries.
Next, Henry Ford surgeon Erica Procter, M.D., removed the large mass and 15 lymph nodes. The chemotherapy had already reduced the size of the cancer to a tiny area in one lymph node.
Following surgery, Tamika had five weeks of radiation treatments.
She experienced some side effects from treatment, including pain and hair loss. Regardless, she says, "I'm alive. I'm here to talk about it. I believe in God, and he'll walk you through anything, if you're willing to walk through it."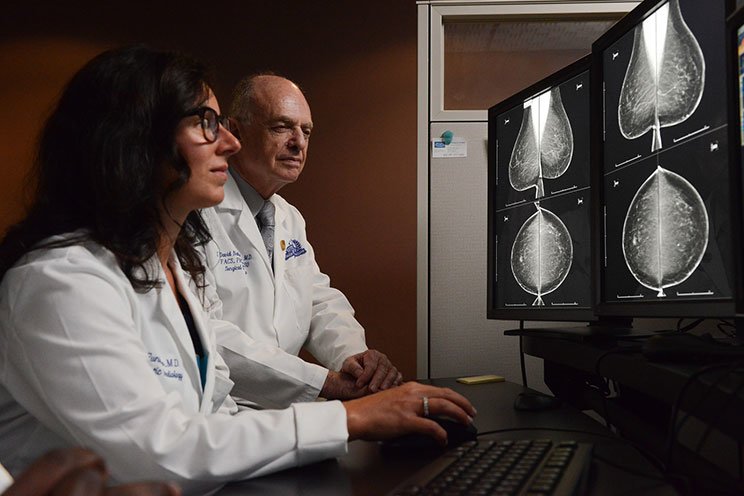 Expert Breast Cancer Care
We give patients access to the top surgeons and the most advanced science-based technologies and treatments.
A family history of breast cancer
For Tamika, fear was the worst part of cancer. Her mother had breast cancer and a mastectomy. Her sister also had breast cancer but decided against chemotherapy or radiation. By the time she changed her mind and wanted treatment, there was nothing doctors could do, says Tamika.
When Tamika learned that her mother, who lives in Memphis, had cancer again, she wanted to care for her. Instead, she sent her daughter and made video calls while continuing her own treatment in Detroit.
"I did the last radiation treatments by myself, but I still had the staff at Henry Ford. They made sure I didn't feel like I was alone," says Tamika. "They were right there as if they were family."
Her friends also helped. "They kept me normal. Everything we talked about was not cancer," she says.
"My son, daughter, and daughter-in law never let me down. We've had our moments, but we didn't let the cancer consume us. They'd tell me to say I was going to beat cancer — and keep saying it."
"Between my kids and my two grandkids, I had no other choice but to get through this. They need to remember their grandmom," says Tamika.
These days, Tamika is promoting early detection of cancer. "I've been yelling, screaming, and shouting for women to get a mammogram and ultrasound if possible," she says. "The earlier you detect it, the better you are."
Next on Tamika's agenda? Be with the grandkids. Enjoy life. And even do something extra — she's working to help to create housing for homeless veterans.