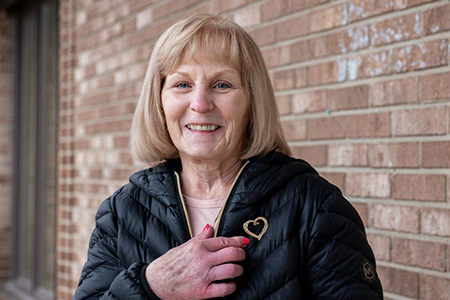 Having a heart attack was the furthest thing from Judy Juengel's mind just days after Christmas 2022. Judy, 72, was at her Macomb Township home with her granddaughter when she started with what she thought was indigestion. It grew progressively worse.
"It eventually felt like an elephant was sitting on my chest," said Judy.
Her granddaughter Leah sprang into action and called 911 to report that she suspected her grandmother was having a heart attack.
Time is muscle
Judy was rushed to Henry Ford Macomb Hospital. The EMS team alerted the hospital of her condition before she arrived. The cardiac catheterization team, led by Jelena Arnautovic, D.O., was quickly assembled.
One of Judy's coronary arteries was 100 percent blocked and required a stent to allow blood to flow to her heart.
"Prompt intervention is crucial because with each second that there is a blockage, there is an increased chance that the heart muscle will be damaged or die," said Dr. Arnautovic. "The time from when Judy arrived at the hospital to the time we opened her artery (door-to-balloon-time) was 61 minutes in this case. The national recommendation set by the American Heart Association in 90 minutes or less."
Judy was able to go home just two days later. She was so impressed by the care she received, she even posted about it on social media.
"I was amazed at how quickly everyone responded, from when we first dialed 911 until the hospital had the stent in place and I never lost consciousness throughout the whole ordeal," said Judy.
Judy has lived in Macomb Township her whole life. She and her husband built a house on her parent's farmland. While she has heart history in her family, she's never had high blood pressure or high cholesterol herself.
An ounce of prevention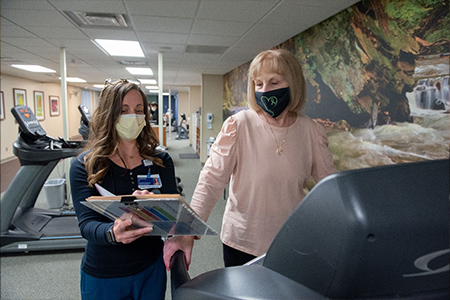 A few weeks later, Judy completed a four-week program through Henry Ford Cardiac Rehabilitation to help restore optimal physical wellbeing through exercise and education.
"Cardiac rehabilitation not only helps your heart and muscular function, but also reduces your risk of suffering another heart problem in the future," said Victoria McDonald, manager of Henry Ford Cardiac Rehabilitation.
Now, Judy's back to playing cards with friends, antiquing, and playing with her dog Toby.
"I feel grateful to be alive. They saved my life, and I can't say enough good things about them. The whole team was very attentive during my hospital stay," said Judy. "I also want to thank Macomb Township Fire Department and Medstar EMS for responding so fast. They were all just excellent. I know God put everyone in place for me that day and I'm so thankful."