Heart Attack Victim Saved by Good Samaritan
On July 12th, Derek White was driving in his car along an Oakland County road, when he started having a heart attack. Rudy Denha and his cousin were driving by, when they saw Derek's car, blocking traffic along the side of the road. Rudy broke Derek's car window to help him, as he was at this point unconscious. Rudy's cousin called 911, and a police officer who arrived on the scene administered CPR. Derek was rushed to Henry Ford West Bloomfield Hospital, where he underwent lifesaving, world class medical treatment. Today, Derek is alive and well, thanks, he believes, to the man who started a chain reaction that ended up saving his life.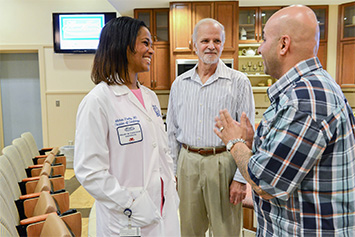 "Because of the willingness of Rudy to get involved, it just set off a whole string of miracles. A lot of things that shouldn't have happened did happen, so he to me is the one that started the cascade," said Derek White, after meeting, for the very first time since his heart attack, with Rudy Denha and the others who saved his life that fateful day. During this visit on July 30th at Henry Ford West Bloomfield Hospital, Derek got to come face to face with Rudy, and thank him personally for allowing him the chance to live.
However, Rudy says that, to him, immediately rushing to Derek's aid and consequentially helping to save his life was an act that just made sense. "I would've done it for anybody. What made me act was I've been in a car accident myself; I've had 18 surgeries from a motorcycle accident. And people have stopped to help me. And I made a choice in life: if I ever see anybody, anytime, falling or anything wrong with them, I'm always going to stop and help."