Turning the Tables - Patient Story
Long-time HFWH cath lab nurse finds himself "on the table" for a life saving procedure
As Mark Hopkins, Cath Lab R.N., HFWH, recounts his experience as a patient it is evident that he is grateful for where he is today. The past year of his life has been transformational.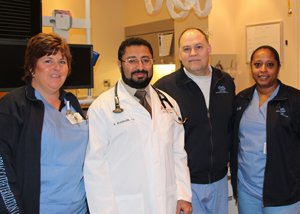 "2014 was a tough year for me," he shared openly.
He started working at HFWH 13 years ago as a nurse on the critical care unit (CCU) and 8 months later began his current position in the Cath Lab, where he helps cardiac patients in a unique way that many others can't.
On June 2, 2014 after he arrived to work, he started feeling strange around 9 a.m. Heart problems run in his family, so he decided to be cautious and had a coworker perform an EKG on his heart to see if he was having a heart attack. The results were normal, but the bizarre feeling persisted.
Mark said, "it just felt like I had bad heartburn, which people don't typically think of as symptom of a heart attack. I have heartburn regularly and take medication for it, but eventually the heartburn was getting worse as I walked." He described his symptoms to cardiologist Dr. Abdulmalik and Mark later learned that this was the exact moment he was having his heart attack.
Advised by Dr. Abdulmalik, he walked to the Emergency Department and received his second EKG which detected his right coronary artery was 100% blocked.
Mark was well aware of what needed to happen next and he instructed his team to take him back to the Cath Lab immediately. Time was crucial because with each second that there is a blockage, there is an increased chance that the heart muscle will be damaged or die.
"Getting on the table that I work on is very surreal. During the procedure I was discussing the case with Dr. Abdulmalik and the people I work with every day surrounded me," he recounted.
Mark opted out of pain medicine because he wanted to be clear-headed. He received the cath from his wrist and as soon as his team opened up the artery, the heartburn feeling stopped.
From the time of the second EKG to the time they opened Mark's artery (door-to-balloon-time) only about 30 minutes had passed. This was about 60 minutes less than the national recommendation set by the American Heart Association. Due to the speed of the procedure, there was no damage to Mark's heart.
"My wife, who is also a nurse on the HFWH OB unit, was there and extremely upset. The team kept her calm and reassured her," Mark said.
Mark was impressed by the care that he received even outside the Cath Lab. He recognized former co-workers as he healed in the CCU and continued his recovery process at cardio rehab.
"They took really good care of me in the CCU and the team at cardio rehab provided me with the motivation I needed."
Now, Mark empathizes with patients and shares his experiences to encourage and comfort them when they are scared. When patients see him doing well, it relaxes them knowing that Mark has been in the same position and now his health is restored. Patients often let Mark know how much his words helped them build the strength they needed when they were in the Cath Lab.
"This experience turned my life around," Mark said.
Now, Mark is 35 pounds lighter and committed to exercising on the treadmill every day.
"I was blessed. I felt like God was right with me that day."