A new technique for performing cardiac catheterization at Henry Ford Hospital is less invasive and shortens the recovery time for patients.
Doctors at Henry Ford Hospital are using a new technique for performing cardiac catheterization that causes less bleeding and shortens the recovery time for patients than the traditional method. The technique involves using the radial artery in the wrist to gain access to the heart. Traditionally, doctors go through the patient's femoral artery in the groin. While most U.S. doctors use the femoral artery technique, the radial artery technique is slowly gaining acceptance because of its safety and patient convenience advantages. Henry Ford is leading the way in the metro Detroit area using the technique called transradial cardiac catheterization.
Less bleeding, shorter recovery
"It's less invasive for patients and it's more convenient," says Akshay Khandelwal, M.D., an interventional cardiologist at Henry Ford who performs 70 percent of his catheterization procedures through the wrist. Dr. Khandelwal says the technique decreases the risk of bleeding and recovery is more comfortable. Afterward, patients sit up immediately and rest in an armchair, while keeping their wrist straight for a few hours. With the femoral artery, or transfemoral, technique, patients often have to lie on their back in a hospital stretcher for six to eight hours - an uncomfortable prospect for patients with back, arthritic and obesity problems. "We've had a very good success with the transradial technique, and our patients love it. It's safer than the traditional technique and shortens the recovery time, and that leads to lower health care costs." Dr. Khandelwal says most procedures that are performed using the transfemoral technique also can be performed using the transradial approach.
A common medical procedure
Cardiac catheterization is a common medical procedure used to diagnose and treat coronary heart disease (CAD), the leading cause of death in United States today. CAD is a condition in which plaque builds up inside the coronary arteries and cuts off the blood supply to the heart muscle. Chest pain is a common symptom, though the pain can be felt in the shoulders, neck, back and arms.
To unclog arteries blocked by plaque, doctors perform a procedure called angioplasty, during which a catheter with a small balloon attachment is inserted in either the wrist or groin and threaded to the area of the narrowed or blocked artery. Then the balloon is inflated, pressing the plaque against the artery wall and improving blood flow. If necessary, doctors will insert a stent through the catheter and into the artery to hold it open. The procedure is performed under local anesthesia and patients are awake.
Patients prefer the wrist option
Gary Healey of Troy has undergone both the transradial and femoral artery techniques, and prefers the newer option. "After (Dr. Khandelwal) explained what he wanted to do, I was like, 'this is cool,'" says Healey, 61, who underwent the transradial technique Oct. 1 at Henry Ford to treat a clogged stent implanted two years earlier on the left side of his heart.
Healey returned to work as an operational analyst for Kelly Services two days after the catheterization, and resumed his weekly bowling outing less than two weeks later. "It didn't hurt at all," Healey says of the bowling.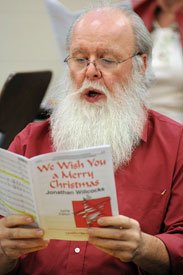 Healey has one more impending catheterization - a new blockage near an existing stent on the right side of the heart - and plans to have the transradial technique if possible. Dr. Khandelwal cautioned that not everyone may be suited for the transradial technique due to the complexity of their case.
"I love to sing but my breathing support is not what it used to be," says Healey, who sings baritone in the Jackson Choral in Oakland County. "I expect after I have the next stent replaced that'll I be back to normal."
A divorced father of four children and four grandchildren, Healey is thankful to be alive today. He was driving to the golf course in September 2008 when he felt a sharp pain in the chest. Once at the golf course the pain resurfaced. Healey then called his son to take him to the Emergency Department at the Henry Ford Medical Center-Sterling Heights. Doctors diagnosed heart attack, and Healey was immediately transported to Henry Ford Hospital.
Later that afternoon, Healey was lying in the hospital talking to his son when a strange feeling came over him. "I had closed my eyes and I felt as if I had left my body. The next thing I knew, I was back in my body and the pain was excruciating."
What followed was the first of two cardiac catheterizations 33 days apart. Both were performed through the femoral artery. Afterward, he went through Henry Ford's cardiac rehab program and lost 70 pounds, thanks to a healthier diet and exercising.
I'm breathing easier
Like Healey, Janice Gledhill is on the mend following a transradial cardiac catheterization on Oct. 11 to repair a blockage found after a stress test and CT scan at Henry Ford. A planned trip to Texas to visit her son and his family had to be delayed until after the procedure. "My arm was a little back and blue but that's it," says Gledhill. "I anticipated there would be more discomfort and I'd have more pain." Before the blockage was found, Gledhill was noticeably fatigued and physically taxed, especially during her job delivering The Macomb Daily to various coin-operated newspaper boxes and other locations as a circulation relief driver. "It got to the point where I would come home from work and go right to bed," says Gledhill, 62, of Clinton Township, who is married and has two children and two grandchildren. "It's a physical job."
Since the procedure, Gledhill has returned to her job and rescheduled the Texas trip. "I breathe easier and I don't seem as tired," she says. "Oh, my gosh, I was so panicked that I was going to need open surgery. It just turned out so wonderfully."
Timeliness of Care Counts-Sidebar Henry Ford Hospital consistently meets national quality guidelines for treating patients with a severe heart attack. The guidelines call for patients to undergo cardiac catheterization and "balloon" angioplasty within 90 minutes of arriving at the hospital. Studies have shown that performing the procedure within that time frame greatly reduces a patient's risk of dying.
Henry Ford has a 100 percent success rate in achieving a "door-to-balloon" time of 90 minutes or less, dating back to July 2009. Henry Ford is believed to be the only hospital in the southeastern Michigan region that has demonstrated this success for the past 15 consecutive months. "While we are proud of our achievement, we continue to look for ways to improve our process," says Dr. Khandelwal, who helps direct the heart attack program. "We are committed to working as a team to save lives, and the collaboration of our Cardiac Catheterization Lab and Emergency Department, and our local EMS personnel make this possible."