There is a Treatment For Female Hair Loss (Alopecia)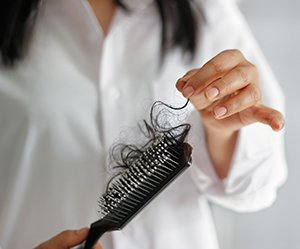 Hair loss can be both traumatic and unexpected for any woman. However, age-related genetic hair loss is the most common type of hair loss for women with up to 50% of women being affected in their lifetime. Hair loss can be socially distressing and have far-reaching effects on both self-confidence and self-image and many women have been told that there is no treatment or remedy.
Here at Henry Ford Center for Cosmetic Surgery we offer a treatment using your own blood to encourage hair growth. The treatment called PRP uses platelet-rich plasma (PRP) injections to treat hair loss, allowing you to recapture your self-confidence and natural beauty. Platelet-rich plasma (PRP) is a newer method for the treatment of various types of alopecia. PRP injection is a simple, cost-effective and feasible treatment option for alopecia, with high overall patient satisfaction.
What is PRP treatment?
After we draw your blood it is placed into a centrifuge to separate the red blood cells from the platelet-rich plasma. The plasma is then directly injected into your scalp at the level of the hair follicles.
What are platelets?
Platelet cells are your body's first responders for wound healing. They are full of numerous growth factors that stimulate your body's own repair mechanisms. Once these platelet cells are collected, they are injected into the areas of hair loss to enhance and regenerate the cells to stimulate hair growth.
Where is the treatment done and how long does it take?
The treatment is done easily in the office there is no downtime and patients have no restrictions afterwards.